Royal Navy appoints first female warship commander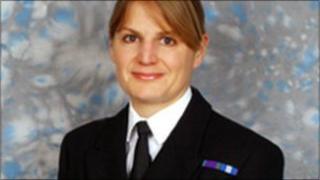 The Royal Navy has appointed a woman to command a frigate for the first time.
Lieutenant Commander Sarah West, 39, will take command of HMS Portland in April 2012. She has previously commanded four minehunters.
A Ministry of Defence spokesman said Lt Cdr West would complete a commanding officer designate course before taking up the position.
Women have been able to serve in the Royal Navy since 1994 and now make up just under 10% of the force.
They remain barred from some areas of service, such as the Royal Marine Commandos.
Lt Cdr West's previous naval experience has included serving in the Gulf.
She grew up in Lincolnshire and studied maths at the University of Hertfordshire before joining Britannia Royal Naval College in 1995.
The Ministry of Defence spokesman said sailors had to go through the ranks before they could take up a command position.
"It's by no means a given that you're going to get that position," he said. "[Lt Cdr West] has obviously been awarded that position on her merits."
Lt Cdr West takes over the command of HMS Portland from Commander Mike Knott.
The Navy says HMS Portland is a Type 23 Duke Class Frigate and was launched in 1999.
Its website says the 436ft (133m) long ship was originally designed for anti-submarine warfare but can conduct a "wide range of other tasks" including disaster relief work and surveillance.