Government plans tougher curfews for offenders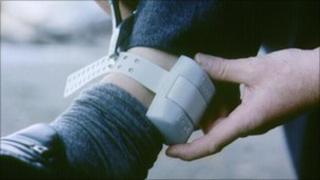 Criminals serving community sentences could face curfews of up to 16 hours a day under new government proposals.
Currently offenders in England and Wales cannot be confined to their homes for more than 12 hours a day.
The proposals would also extend the period over which a curfew could be imposed from six months to a year and allow their hours to be varied.
Minister for Prisons and Probation Crispin Blunt said the plans would keep offenders off the street for longer.
"These tougher curfew conditions will keep offenders off the street for longer, stop them socialising in the evenings and keep them away from situations that could land them in trouble again," Mr Blunt said in a statement.
'Order to chaotic lives'
The Ministry of Justice said the changes to be included in the Legal Aid, Sentencing and Punishment of Offenders Bill would also ensure offenders faced "meaningful punishments that help stop them reoffending".
"Curfews not only restrict liberty but they can bring order to chaotic lives," it said.
Offenders can be returned to court for further sentencing if they breach their curfew conditions.
The Howard League for Penal Reform said community sentences helped people "get their lives on track" by allowing them to work, maintain relationships and take responsibility for their actions.
But director Frances Crook said "keeping people locked in their bedrooms for a year" would not encourage them to improve their behaviour.
"Instead we are mimicking the prison environment; that of idleness, television watching and boredom," she said.