London riots: Your reaction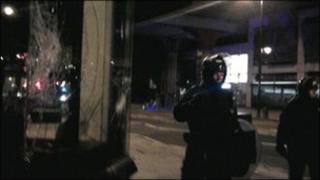 Police have condemned a wave of "copycat criminal activity" across London in a second night of looting and disorder following riots in Tottenham.
Reaction to the rioting is rife on social media and readers of BBC News are contacting us to share their experiences.
Here are some of their stories and pictures.
Steve was pushed over by looters
I can only walk with sticks but that did not prevent these thugs from knocking me to the ground in Oxford Circus last night.
I saw no anger in the rioters, just lust for violence and happiness at this chance to rob with no risk.
One of the most disappointing feelings I have about last night is that a few wicked people will stigmatise a whole generation.
After what happened a couple of lads picked me up. They were full of positive attitude.
They did not want to be associated in any way with the event of the last few days by colour or age.
Worries in other neighbourhoods
Twitter users in Southgate, North London, worry they might be the next neighbourhood to witness rioting.
Donna Jenkins has "been told to go home from Southgate office" and Gwyn Emberton tweets: "Front of our building has been locked and shops are shutting up in Southgate!"
Leah from Winchmore Hill says: "Just got told by a security guard at Wood Green Shopping City to 'get out while you can - rioters are coming.' People were running about panicking and shops were pulling down their shutters."
And Mustak, who owns a business in Stratford, East London, emails: "The police came and informed us to close the shop. If we leave the shop open it is at our own risk. My question is how are the police helping?"
David Waddock 'did not see a single police car'
For over two hours last night we watched from our house as hundreds of people looted Currys in Brixton.
We called 999 twice but in over three hours we did not see a single police car or van or even hear police sirens.
People were casually loading their cars with televisions, DVD players and even vacuum cleaners.
Everyone is in a state of shock. One of our neighbours is frightened to open their curtains.
Was social media used to organise the riots?
Bloggers have been questioning the role social media has played in the riots.
The Urban Mashup notes the differences between former protests and the London riots: "In recent public disturbances such as the student protests, commentary has focused on the role that social networks such as Twitter and Facebook have played in the planning of demonstrations and coordination of protesters.
"By contrast in this riot it appears the social network of choice is one provided by none other than BlackBerry."
The BlackBerry Messenger, known as BBM, enables people to share texts and messages within groups of people.
According to the blog: "The key point here is that although these messages are spreading virally, by being shared via BBM they have been less visible to the outside world, making them harder to track."
Emma Reynolds in Brixton witnessed looting
I saw Foot Locker on fire in Brixton High Street after midnight on Sunday.
KFC and McDonalds were smashed up.
About a five-minute walk away in Effra Road, Currys was getting broken into. Nearly 200 people were there trying to get through the metal shutters.
Eventually they got in and made off with widescreen TVs, vacuum cleaners, and computers.
There were riot police near Brixton station, but there was no police presence in Effra Road for at least 40 minutes.
In that time, looters walked away with lots of electronic goods.
Politicians having their say on Twitter
Politicians have been tweeting their thoughts on the London riots.
UKIP leader Nigel Farage tweets: "Seeing pictures of looting whilst the police do nothing is frankly astonishing. That's not protesting, that's stealing."
Labour MP Diane Abbott tweets: "Message needs to go out to copycat looters that it's illegal, immoral and profoundly stupid.
Labour MP for Walthamstow, Stella Creasy, tweets: "Update - despite the rumours there have been and are currently no disturbances in the Waltham forest area and haven't been either!"
Sharif Rahman works at Currys in Tottenham Hale
I went to work yesterday but we weren't allowed to enter the building: it was a crime scene area.
The looters took everything from the PC World store next door and also raided Argos.
Fortunately, they didn't manage to get into my store but we're closed so we're losing money.
It's a disgrace: I have full confidence in the police but it looks like everyone is blaming them.
More comments from London:
James from Enfield: Last night on the way down the A10 road I saw a young boy with a TV bigger than him, just casually walking and there were police with dogs right behind them. Madness.
Mits: Disgusted at the fact the local MPs of Tottenham and Enfield are trying to blame all the action on people not from the area. Do they know every single person in their community? I think not.
Mila from Brixton: I live close to Currys in Brixton. I watched hooded youths brazenly running up my road towards the store. At about 01:00, my usually quiet road was filled with cars coming from the direction of Effra Road and Currys. This could have been due to traffic being diverted, or it could have been the opportunists taking their loot home. One man walked casually past my window carrying a fairly large box, with a wide smile on his face.
Lex from Streatham: Some of the shops here have been trashed, as well as those in Brixton. It's very, very sad indeed and actually brought me to tears. Our facilities were just getting better, new businesses were moving into the area and there was a sense of improvement. Now that these facilities have been trashed, it's absolutely devastating. It's utterly counter-intuitive to attack your own community in this way.
Jeremy from Walthamstow: I was in a pub on Hoe Street in Walthamstow, close to the High Street where disturbances took place on Sunday night. I saw many youths running away from the scene, I saw youths being chased by police and arrested outside the pub. I also saw people calmly and brazenly carrying looted items down the street. It's a disgrace, it is a thuggish gang culture that has blighted the community increasingly over the years. It was nothing to do with a protest - it was criminality, nothing more or less.