UK Apaches in action over Libya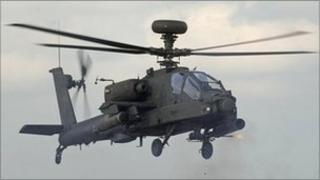 British military action in Libya continues with Apache helicopters carrying out a strike on a major base of the Gaddafi regime on Sunday.
They also destroyed military vehicles at al Watiyah, near the border with Tunisia, the Ministry of Defence said.
Meanwhile, foreign minister Alistair Burt has insisted that "incremental progress" was being made in Libya.
He said the international community had to be "patient and persistent" in dealing with Col Gaddafi.
Ministry of Defence spokesman Maj Gen Nick Pope said the Apache helicopters had flown from HMS Ocean in the early hours of Sunday morning to carry out strikes on "a concentration of troops" at Al Watiyah, before targeting the headquarters at Tiji.
"Hellfire missiles and cannon fire accounted for one headquarters and 12 military vehicles, including at least one armed with a surface-to-air weapon system, with another four vehicles left seriously damaged," he said.
In recent days a number of operations have taken place, including one in which the destroyer HMS Liverpool fired on a missile launcher in the town of Zlitan, he said.
Ceasefire call
RAF and Army Air Corps aircraft have also been taking action over the Djebel Nafousa mountains in the west of Libya.
"One such patrol attacked a building used by artillery teams firing into Yafran, whilst another patrol struck a staging post for the former regime forces which have been concentrated around Gharyan," Maj Gen Pope said.
Mr Burt told BBC1's Andrew Marr Show: "Economically, work to support the Transitional National Council will go on. The United Nations is involved - there is a special envoy being created by the Secretary General to seek negotiation and see if it is possible to get a political settlement.
"But it can only come when there is a ceasefire and Gaddafi's troops stop killing and of course he does have to be out of the way."
Accommodation costs
A Freedom of Information request has found the Ministry of Defence has spent an average of £1,315,000 a month on accommodation for personnel stationed in Italy since the raids started in March.
About 1,000 members of British forces - largely RAF pilots and support crews - are currently deployed to four different parts of Italy as part of the Nato campaign.
Responding to criticism about the cost of hotels for RAF personnel stationed in Italy, the MoD said in April that it was investigating alternative accommodation options in an attempt to reduce costs.
The UK is part of the coalition force which has been conducting operations in Libya since March under a UN mandate authorising military action for the protection of civilians.