Plan to create libraries of the future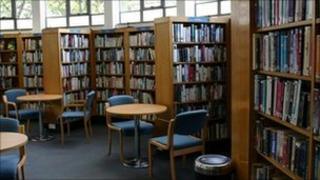 Libraries in England could share their premises with health centres and police surgeries under new cost-cutting plans.
The proposals - by the Local Government Association and the Museums, Libraries and Archives Council - aim to keep open some 400 libraries amid funding cuts.
Their report suggests libraries could be integrated with community facilities like churches or be run in partnership with the private sector.
Readers could also have a more active role in running services, it says.
The Future Libraries: Change, options and how to get there report looks at ways to deliver modern library services with "innovative approaches" that will also save money.
It follows pilot schemes involving 36 councils.
Councillor Chris White, chairman of the Local Government Association's Culture, Tourism and Sport Board, said: "By breaking down the barriers of tradition, councils are bringing libraries into the 21st Century and meeting the needs of a new generation of library users.
"The best libraries are at the heart of councils' approaches to everything from lifelong learning to wellbeing, job seeking, volunteering, education and encouraging more people to get online."
Mr White told BBC Radio 4's Today programme the role of libraries had changed significantly.
"The death of the book isn't going to happen," he said. "But equally if you go into a library now you find rows and rows of young people or older people using the internet and studying and that isn't something I think we would've envisaged 30 years ago and certainly not 60 years ago."
Mr White said under the proposals in the report, volunteers could be used to help professional staff in some libraries, which could also be run out of non-council buildings to make better use of council assets.
Libraries had to take their "fair share" of the £6.5bn funding cuts faced by local government, he said.
Readers' roles
The report proposes running libraries in partnership with the private sector, charities or other councils and extending their reach by integrating them with community facilities such as churches and by providing health centres and police surgeries on site.
It also suggests that services such as offices and mobile libraries could be shared with neighbouring local authorities, and readers given the chance to play a more active role in running services themselves.
But the report adds it is "important to track implementation in these projects if we are to confirm that the proposals work and actually improve efficiency and effectiveness and it could be a number of years before a final judgement can be made on this".
Last year's Future Libraries Programme pilot schemes saw Bradford City Council introduce self-service book borrowing points in shops; Westminster, Hammersmith and Fulham, and Kensington and Chelsea councils draw up plans to combine services; and Suffolk County Council look to recruit members of the community to boards of governors for its libraries.
Culture Minister Ed Vaizey said: "Across England, councillors and managers are working to develop plans that will meet their community's changing needs while balancing budget pressures.
"The Future Libraries Programme has shone a spotlight on excellent examples of innovation and creative partnership working. It will be a hugely useful resource, inspiring local authorities to emulate the best ideas to provide a first-rate library service."