Paul McCartney to speak to police over phone-hack fears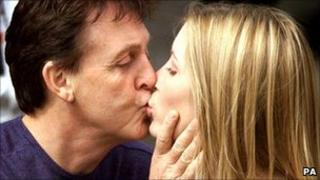 Sir Paul McCartney has told US media he appears to be a victim of phone hacking and will go to the police.
It comes after his ex-wife Heather Mills alleged a senior Mirror Group journalist admitted hacking into voicemail messages left by him.
The former Beatle said he expected to learn more when he talked to police in the UK once his US tour was over.
Speaking from Ohio, he told journalists phone hacking was "a horrendous violation of privacy".
"When I go back [to Britain] after this tour, I am going to talk to the police because apparently I have been hacked," he said.
"I don't know much about it because they won't tell anyone except the person themselves. So I will be talking to them about that.
"I do think it's horrendous violation of privacy. I do think it has been going on for a long time and I do think more people than we know knew about it.
"But I think I should just listen and hear what the facts are before I comment."
'Lonely and desperate'
On Wednesday, Ms Mills told the BBC's Newsnight that in early 2001 she had had a row with her then-boyfriend Sir Paul, who later left a conciliatory message on her voicemail while she was away in India.
Afterwards, she says she was called by a senior journalist from Mirror Group Newspapers who "started quoting verbatim the messages from my machine".
Ms Mills said she challenged the journalist about phone hacking, and they responded: "OK, OK, yeah we did hear it on your voice messages, I won't run it."
Trinity Mirror - part of the Mirror Group - responded by saying all its journalists work within the law and the Press Complaints Commission code of conduct.
Until this week, News International - and in particular the News of the World paper which was shut down last month - have been at the centre of the phone-hacking scandal.
But the Newsnight programme turned the spotlight on rival publishers Trinity Mirror, and Piers Morgan, who was the Mirror's editor at the time of the allegations.
It is known he was not the journalist who spoke to Ms Mills.
However, the message in question appears to be the same as one which Mr Morgan later admitted to having listened to.
In a 2006 Daily Mail article, Mr Morgan referred to having heard a recorded message which Sir Paul had left for Ms Mills.
"At one stage I was played a tape of a message Paul had left for Heather on her mobile phone," he wrote.
"It was heartbreaking," Mr Morgan wrote. "The couple had clearly had a tiff, Heather had fled to India, and Paul was pleading with her to come back."
'Serious questions'
If Ms Mills' recollection is correct, the call Mr Morgan listened to had been hacked, and a fellow Mirror Group Newspapers journalist had tried to use it to get a story.
In a statement issued on Wednesday, Mr Morgan said Ms Mills's claims were "unsubstantiated", adding "I have never hacked a phone, told anyone to hack a phone, nor to my knowledge published any story obtained from the hacking of a phone".
MP John Whittingdale, chairman of the Commons Culture, Media and Sport Select Committee, said there were no plans to call Mr Morgan to face questions over the phone-hacking claims.
Mr Whittingdale said he hoped Mr Morgan would return to the UK to answer "some very serious questions" but the committee could not compel him to come back.
In a separate development, Associated Newspapers, the publishers of the Daily Mail, Mail on Sunday and Metro, has announced its head of legal services was to review its editorial controls and procedures, amid the phone-hacking scandal.
The Daily Mail's editor-in-chief Paul Dacre said he had never countenanced hacking.
Last month Trinity Mirror also announced a review of editorial controls and procedures. The company said it was being conducted in the light of the current environment rather than a specific allegation.