Campaigners warn of 'shortage' in affordable new homes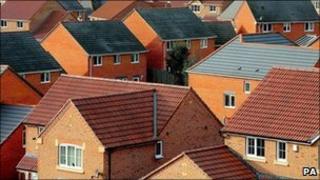 A large shortfall in affordable new housing in England, Wales and Scotland has been revealed by figures obtained by a rural campaign group.
The Countryside Alliance found that just over 54,000 affordable homes were created during the last financial year among the 306 local councils it asked.
Campaigners say that is only a quarter of the number of such homes needed.
The Local Government Association said councils needed to be given more control of money to build new housing.
'Huge challenge'
Of 135 rural and semi-rural councils in England, there was a target to build 17,208 affordable homes over 12 months despite an identified need of 76,532 - a deficit of 78%.
The Countryside Alliance obtained the figures through Freedom of Information requests.
The group warned that a lack of affordable rural homes could lead to the break-up of communities and a loss of services.
Countryside Alliance chief executive Alice Barnard said: "Even in the current difficult economic climate, meeting rural housing need must continue to be a priority for the government, its agencies and local authorities.
"The Countryside Alliance's research highlights that affordable housing provision is a huge challenge in both urban and rural areas.
"But if the rural need for affordable housing is not addressed, and urgently, many of those communities upon which our countryside depends will shrivel and die."
Priced out
The Countryside Alliance said the rural population had grown by 800,000 people in the past decade, as people migrated from towns to the country.
This was twice the rate of urban areas, the organisation said.
It added that the trend was driving up rural house prices and forcing many people away from the areas where they had been raised.
Housing Minister Grant Shapps said the coalition "took the needs of the countryside seriously, and was rewarding councils for helping to build more homes".
But the Local Government Association, which represents councils in England, said thousands more homes could be built if the Treasury removed limits on the ability of councils to borrow money for new housing.