Bootleg vodka causes headache for UK authorities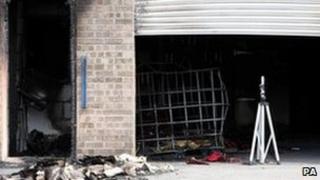 An explosion at an illegal distillery in Lincolnshire, which killed five men and left another seriously injured, has put the spotlight on the bootleg alcohol trade. So, what is the extent of the problem?
What were six Lithuanian men doing in a small industrial unit, among a row of lockup style garages for local car mechanics, close to the centre of Boston?
Following the flash explosion it soon became clear.
A filtration plant - used for an illegal alcohol distilling process - was discovered, along with three lorryloads of counterfeit vodka, falsely labelled as Smirnoff.
'Possible manslaughter'
"The five dead men, one way or another, were clearly involved in the illegal distilling operation," according to a Lincolnshire police spokeswoman.
"But how much bigger is it? What more does it entail? We could also be looking at manslaughter as a line of inquiry."
Her Majesty's Revenue and Customs (HMRC) carried out four spring raids as part of a pilot scheme to find out who was buying and selling the counterfeit vodka and try to stop it reaching store shelves.
Some of those raids were in Boston, the scene of the fatal explosion. The three other areas involved were Peterborough in Cambridgeshire, St Albans in Hertfordshire and Newcastle.
HMRC is considering rolling out the operation nationwide after prosecutions in 16 cases, including one at a pub in Newcastle, successfully resulted in licences being revoked or suspended.
Boston's top police officer, Chief Inspector Lee Pache, says tackling counterfeit alcohol has been an issue for authorities across the UK.
But he adds: "Until the explosion, we had no understanding about illegal distilling in the town. It was a huge surprise."
The scale of such operations has been highlighted in courtrooms elsewhere.
Rat-infested
Last year, six men were sentenced to a total of 56 years after a massive illegal distilling operation was uncovered at Hackney in north London.
Polish migrants were housed and worked in a rat-infested warehouse, where two dozen bottles of vodka were being produced every minute around the clock.
The bootleggers who sell this illegal produce operate in a variety of ways, according to HMRC.
"They turn up at the doorstep, approach corner shops, international stores, even local wholesalers," says a spokesman.
"They post flyers and even email. Often the illegal alcohol is offered at prices that look too good to be true. If that's the case, it probably is."
Manuel Tavares was one of six Boston storeowners taken to court after the first raids. His licence was suspended rather than revoked because he was not offering the vodka for sale, having become suspicious about its origins.
Mr Tavares says he was simply offered the alcohol at the shop door.
'Seemed OK'
"A man in his 40s, he looked Eastern European, pulled up in his car outside my shop," he says.
"He sold me five cases of vodka; 31 bottles. He was selling it the same price as I'd get at the wholesalers, so I though it was OK. It even had all the official duty stamps on it.
"I didn't ask where he got it. It seemed OK, but he ran off as soon as money changed hands, so I got suspicious."
He held back from putting it on sale but it was not until months later - after the raid - that tests showed it contained potentially lethal isopropyl alcohol, a chemical used in solvent and cleaning fluids.
Another international storeowner, Moussa Rajabi, says he has never sold fake alcohol and says the publicity over the counterfeit vodka is bad for business.
But he says he has been approached twice in the past few months.
"Once, a man in his 30s walked in and offered a case of vodka. He showed me a sample bottle, but I noticed the foreign labelling and rejected the offer," says Mr Rajabi.
"Another time, I was offered just one bottle of champagne, again with foreign labelling, but I refused to buy it."
A large number of Eastern European migrant workers now live in Lincolnshire and Cambridgeshire, working in the agricultural industry by picking and packing vegetables.
Dry law
Consequently, Boston's shop shelves are full of foreign alcohol. Many varieties of vodka are on display, a number from Lithuania, but also from Siberia and Ukraine.
The most expensive at one store costs £17.50, while ingredients are varied: Honey, pepper, quince and even chillis.
Lithuania's connection to distilling dates back to the days of the Soviet Union in the mid-1980s when the country had a "dry law".
Alcohol could only be bought for three hours across lunchtime, so people began to distil their own spirits. Even as recently as 2005, a pipeline carrying illegal vodka from Belarus was discovered.
Critically ill
Recent speculation among Lincolnshire's farming community has suggested this practice is now going on in their county, with potatoes being bought to distil into vodka. But there is no firm evidence.
A free daily newspaper for UK-based Lithuanians, Tiesa, spoke to the girlfriend of one of the blast victims, a 26-year-old killed instantly alongside his 18-year-old half-brother.
According to the report, close relatives thought the men were working on flower farms around Peterborough.
Lincolnshire police is urging the local community to come forward with information following the Boston explosion.
In the meantime, they are hoping the 32-year-old blast survivor recovers sufficiently to tell them what lies behind the distilling operation in Boston.
However, he remains critically ill, in a medically-induced coma with 75% burns, in Birmingham's Queen Elizabeth Hospital.