Ministers plan to cap council tax benefit pot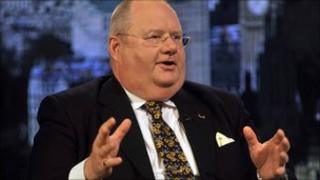 The government is planning to restrict the amount of money that local authorities in England can hand out for help with council tax bills.
Councils currently grant rebates to eligible people on low incomes and bill the Department for Work and Pensions.
But ministers argue the scheme, which costs £4.8bn a year, represents an "endless pot of money".
The coalition wants to cut the bill by 10% by limiting direct funding for the rebates - effectively imposing a cap.
Council tax benefit is claimed by 5.8 million people in England on low incomes.
At the moment, individuals apply to their councils for the rebate.
Efficiencies
The local authorities then send a monthly bill to the Department for Work and Pensions based on the costs of paying out.
The department pays the local authority the amount, which it then distributes.
In future, councils may have to work within a fixed budget, set by the Department for Communities and Local Government, for council tax benefit.
The government argues that this will encourage authorities to find savings, if they are to maintain current benefits and meet likely future demand.
Officials say councils may do this through administrative efficiencies, such as sharing offices with other councils, or cutting error and fraud, estimated to cost £200m a year.
But councils will also be free to change the eligibility criteria. This could mean that council tax benefit will depend on where you live - a change to the concept of universal state benefits.
If councils cannot find savings, poorer households may see their council tax benefit cut.
An 11-week consultation is under way, to be followed by the Local Government Finance bill, which is expected to be published in the autumn.
Communities and Local Government Secretary Eric Pickles said: "Plans to put councils in charge of providing support for council tax go hand in hand with wider economic reforms - such as the New Homes Bonus and our proposals for the local retention of business rates.
"That means in future councils will have a much greater stake in the economic future of their area and greater incentives to support local residents back into work.
"The new system will be a fairer one, where hard working families and pensioners are not left to pick up a spiralling benefits bill and where hard work always pays."