Phone hacking row: Firm 'asked about deleting emails'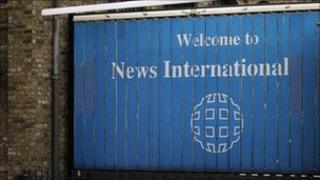 An IT firm which has a contract with News International has told Parliament the company asked it for advice on nine separate occasions on how to delete large numbers of emails.
HCL told the home affairs committee that it knew of nine instances between April 2010 and July 2011.
It gave details of each case, but said it was not aware of any wrongdoing.
HCL said it was not responsible for managing archive emails, which are more than 15 days old.
News International - which is owned by Rupert Murdoch - publishes the Sun, the Times and the Sunday Times.
It also published the News of the World until the paper was closed down three weeks ago as a result of the phone-hacking scandal.
Old mailboxes
India-based HCL was responding to questions from the home affairs committee about its relationship with News International.
It said the publisher's nine inquiries included a request to delete old mailboxes belonging to former employees, and another to get rid of more than 200,000 delivery failure messages.
News International also asked HCL to work with a third company to delete emails from the archive to make it a more manageable size.
HCL's lawyer, Stuart Benson, wrote to the committee: "My client is aware of nothing which appeared abnormal, untoward or inconsistent with its contractual role.
"It is of course a matter entirely for News International, the police and your committee as to whether there was any other agenda or subtext when issues of deletion arose, and that is a matter on which my client cannot comment."
He said that because HCL did not store any data for News International, any suggestion that the IT firm deleted material held on behalf of the publisher was "utterly without foundation".
A public inquiry into phone hacking will begin in September and will have the power to demand evidence from witnesses.