Phone hacking row: Cameron 'must come clean' over Murdoch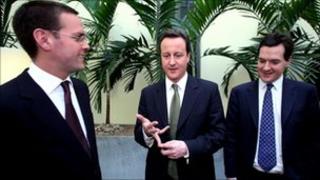 Prime Minister David Cameron and his senior colleagues must "come clean" over their dealings with the Murdoch family, Labour has said.
The party has sent letters to Cabinet ministers, containing more than 50 questions it claims have still not been addressed by the coalition.
It comes in the wake of the phone-hacking scandal.
A Downing Street spokesman said: "We moved quickly to publish all meetings with editors and proprietors."
But Labour is asking what discussions key ministers had with the Murdochs about their attempt to take full control of BSkyB.
The bid collapsed following intense pressure at the height of the hacking revelations.
Labour has demanded Mr Cameron reveals "the dates, nature and content of the discussions" he had with James or Rupert Murdoch as well as ex-News International chief executive Rebekah Brooks about the deal.
The party is also attempting to keep up the pressure on Mr Cameron and his colleagues about Andy Coulson, the former News of the World editor who then worked as Downing Street communications chief for seven months.
The letter calls on the Prime Minister to reveal if he spoke to Mr Coulson following his arrest.
'Tangled web'
Shadow culture secretary Ivan Lewis said: "The signs are that David Cameron still does not get it.
"David Cameron and George Osborne treated warnings about Andy Coulson with contempt and failed to put a proper distance between themselves and senior News Corp executives during the consideration of the BSkyB bid.
"A tangled web of their own making will not go away until they and their cabinet colleagues give full and frank answers to legitimate questions."
It has previously been reported that Mr Cameron had 26 separate meetings with executives from Mr Murdoch's companies since last May's election.
Labour leader Ed Miliband had 15 meetings or social contacts with News International executives over the same period, while Chancellor George Osborne had 16.
Mr Cameron has ordered all ministerial meetings with media proprietors, senior editors and executives be published.
It comes amid fears that politicians have become too close to the Murdoch empire.
Mr Cameron, Mr Miliband and Deputy Prime Minister Nick Clegg published a list of their meetings earlier this month.