Amanda Knox: DNA evidence defended by Italian police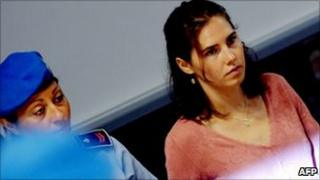 Italian prosecutors have rejected claims that evidence used to convict Amanda Knox of the murder of UK student Meredith Kercher was unreliable.
Knox, 24, and her Italian ex-boyfriend Raffaele Sollecito, 26, are appealing against their convictions for killing the Surrey student in Perugia in 2007.
On Monday, experts told the court the DNA evidence which helped convict the American could have been contaminated.
But the scientific police director has defended the original forensic work.
In a letter read out to the court, Piero Angeloni described the technology used as being world-class and said the officers were highly experienced.
"Never before" has there been such criticism of his agency, he said.
Patrizia Stefanoni, the police forensic scientist who originally found the DNA on the knife and Miss Kercher's torn bra clasp, has said she will fight the appeal trial experts' accusation that basic errors were made.
'Not reliable'
During proceedings in Perugia, prosecutor Manuela Comodi sought to undermine the independent experts' conclusions and show that the forensic evidence used to convict Knox could stand.
The experts - appointed by the court to review the evidence and procedures used to obtain it - maintain that the original investigation was marked by some glaring errors, the Associated Press reports.
Much of the debate centred on a kitchen knife the prosecutors believe to be the murder weapon.
In the first trial, prosecutors maintained that Knox's DNA was found on the knife's handle and Miss Kercher's DNA was found on the blade. They also said Sollecito's DNA was found on the clasp of Miss Kercher's bra.
But the appeals court heard that the collection of evidence fell below international standards.
Carla Vecchiotti, a forensic specialist from La Sapienza university, Rome, said it was impossible to say whether the British student's DNA was found on the knife.
"There is a complete genetic profile, but it's not reliable," she said.
"We don't know if Meredith's DNA was on it or not."
Ms Comodi insisted that the genetic profile found on the blade should not be thrown out.
Miss Kercher, a Leeds University student, was living in Italy as part of a year of study abroad when she died.
Knox is serving a 26-year sentence for Miss Kercher's murder while Sollecito, an Italian, was sentenced to 25 years.
Both deny any wrongdoing.
Rudy Guede, 21, was also convicted of Miss Kercher's murder in a separate trial and is serving a 16-year term.
The hearing was adjourned until September.