The demise of free parking in city centres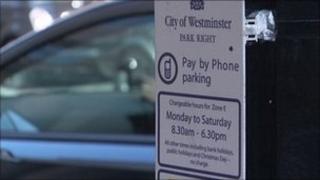 Just before 6.30pm on a weekday, cars zip around the streets of the West End of London hunting for a space. Securing a free spot for the evening can substantially reduce the cost of a night out at the cinema, theatre or restaurant.
But next week Westminster Council looks set to follow the lead of many other local authorities and extend parking restrictions. The proposal is to have weekday charges for street parking until midnight in an area near Oxford Street.
There is also a plan to end free Sunday parking in a limited zone - with new charges of £4.40 per hour expected from midday to 6.30pm.
Lee Rowley, the councillor in charge of parking, says the restrictions will apply to only a quarter of the area under the control of the local authority.
"Our proposals are for a very small part of the centre of Westminster," he said. "To the north of Oxford Street, a few minutes away, there will still be free parking all evening."
'Another tax'
That is not much good for musicians who work in the West End like Paul Moylan, who plays the double bass at several venues in town.
Turning up for a jazz night at the Spice of Life bar in Soho, he said: "I think it will stop a lot of gigs. I've already paid the Congestion Charge for coming here. This will be another tax on my earnings."
The other band members seemed to agree. They said evening parking charges will mean smaller audiences and fewer musicians able to perform in bars, clubs and theatres.
It is easy to see why Paul Moylan cannot take his unwieldy double bass on the Tube - but the council says others will welcome the proposals.
Sunday is now the second busiest shopping day of the week and some areas of the city centre have their highest traffic flow at 10pm.
Westminster Council says many of those who live in the West End find it harder than ever to find a residents' space.
Discounts offered
Local officials say parking restrictions have not been reviewed for a decade and it is time they were brought up to date.
This is just the latest in a long line of parking decisions taken by local authorities. Manchester will decide soon on Sunday charges. Liverpool already has them. Oxford plans to reintroduce a fee.
In Newcastle, there has been a Sunday parking charge for 20 years.
Henri Murison, of Newcastle Council, said it was important though to offer permits to church-goers and concessions to others.
"On a Sunday there are certain groups of people we do want to encourage to still be able to park here," he said. "Shoppers get a discounted rate. I hope that other councils who are considering charging consider how best to help hard-pressed families in difficult times."
But there is no plan for special discounts in London.
Tighter controls
Father William Pearsall, of Farm Street Catholic Church, says the new restrictions will affect the attendance at Sunday services and damage the work of community groups.
"Every culture has a day that it needs like this. A day of rest, a day of visiting family and friends, a day of freedom of movement, and freedom from the commercial claims on our lives," he said.
Most local authorities say this is not about raising revenue. Rules are supposed to prevent councils making a profit out of parking - any gains should be reinvested to benefit motorists.
The Local Government Association, which represents councils in England, says in quieter areas some authorities are even relaxing the rules to encourage more visitors.
But in big cities, many of those individuals directly affected will not have their suspicions easily shaken. And some see it as just another step towards parking controls which apply seven days a week, 24 hours a day.