London 2012: Olympic circus comes to town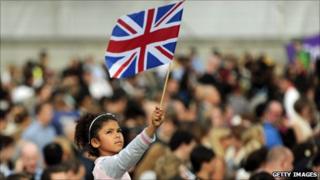 At the ceremony in London's Trafalgar Square to mark one year to go to the 2012 Games, arabesque stilt walkers, employed to entertain the crowd of up to 7,500 onlookers, weave their way through, drawing in people's smiles and being snapped on phone cameras.
The atmosphere at this, albeit staged, marking point in the final push to the Games is one of frenetic, hyped-up excitement which the Olympics seem to stir.
The familiar 2012 faces are here and the buzz is around them, as people cram in to see.
Politicians like Tessa Jowell, who helped seal the bid for London, athletes like gymnast Beth Tweddle and Beijing 2008 gold medal cyclist Ed Clancy.
There's a Royal, IOC member Princess Anne, here to unveil the 2012 medals with Locog chief Seb Coe; bands playing on stage and the thrill of Tom Daley, live on big video screens, taking the first dive in the just-opened Aquatics Centre pool.
Unpredictably, it is London Mayor Boris Johnson who is mobbed like a star athlete, and fairly chased across the square by the crowds.
His speech also garners the biggest cheer.
This evening is a mixture of live BBC TV show, concert, party and official moments such as the formal invitation to the world and its athletes to come to London for the Games.
International Olympic Committee president Jacques Rogge pays tribute to Britain, the nation of inventors that he says came up with "modern sport and the concept of fair play".
He says: "Today, we invite 202 national Olympic committees to the 2012 Games. The athletes will be ready, and so will London."
In simple language, Prime Minister David Cameron notes London is ready with some venues finished, six years after the news that London had won the bid was announced to wild celebration in this square.
This is a "great" night for London, for Britain, he says. An Olympics all about "great" support and "great" athletes.
The PM's words are met with polite applause but then Boris steps up to the microphone.
Roar for Daley
He tells the crowd: "We have a new monument, in this city, to the indomitability of London.
"A symbol of resilience to go with Nelson's Column or the Dome of St Paul's rising above the smoke of the Blitz. My friends, I give you, the Olympic clock.
"No sooner had this masterpiece of the Swiss chronometer's art been installed, than it unexpectedly packed up.
"But, with the help of various Swiss chronometers, we got it going again didn't we.
"And then it was attacked by a horde of hooded crusties, protesting at something or other. And still that clock ticks on.
"Nothing, and no-one, is going to stop us in our work of preparing London for the greatest event that has taken place in this city for the past 50 years."
People go wild with a screaming roar, only matched when they see Tom Daley take dive from the highest platform into the Olympic pool.
If that roar for Daley, as the big screens show him executing an exhibition - not even competitive - dive over at the Olympic Park is a measure, the noise of home support at next year's Games will be incredible.
It's something the athletes here are excited but cautious about. As Beth Tweddle puts it: "At one year to go, it's just really exciting. But it's hard because we've still got to qualify."
For them, tonight is a landmark, but also business as usual. Pursuit cyclist Ed Clancy says he has every day of the next year mapped out on the spreadsheet that is his training schedule.
"Inevitably you feel a little bit of trepidation about that. But it's a once in a lifetime chance, you've got to go for it," he smiles.
Among the crowd, as perhaps could be expected with people that have turned out to celebrate an Olympics on the horizon, the mood is mostly positive.
There are grumbles however. The scarce availability and price of tickets still really rankles, especially for those who missed out in the ballot.
It is the gold medal of complaints, just edging above the view that this might all be for London, not the whole UK.
Some people are trying Olympic sports at the laid-on table tennis table and basketball hoop. Whether they are here from the London Olympic boroughs, or further afield, they have good things to say about London 2012.
"Oh my, I hear about it every single day," says Bola Lawal, 17, from Newham. "I never thought it would be this close, we're going to have a whole house party for the opening ceremony. It's going to be fantastic."
Sue Sidey, from West Wickham, south London, has brought husband Grant, daughter Lucy, 14, and son Robert, 10. They are lucky ones, who scooped athletics tickets in the ballot and she is beaming. "I think it's brilliant. And it's lovely how everything is ready for the Games."
Even the medals, unveiled by a slightly-underwhelmed looking Princess Anne and featuring the maligned 2012 logo, get a good review.
One blip: part of the idea of this ceremony is to dress up some of the London buildings as they will be decorated for the Games.
But the giant-pennant-shaped flag bearing the Olympic rings looks stuck two-thirds of the way up the front of the National Gallery as it is winched skywards amid a pouf of smoke and paper confetti.
However as band The Feeling play out, and Londoners, Brits and the capital's summer tourists mill away, the mood is upbeat, one of awed anticipation at what's to come.