Banned activist Sheikh Raed Salah to remain on bail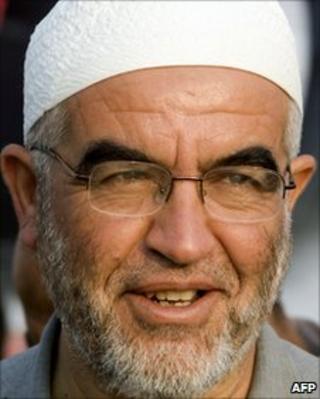 An appeal judge has said a leading Israeli Arab activist, who was detained in London on the home secretary's orders, should remain on bail pending the outcome of legal proceedings.
Sheikh Raed Salah, leader of the Islamic Movement of Israel, entered the UK last month although the government says a banning order was in place.
He attended a meeting in Leicester but was detained on his return to London.
He was later freed and will now remain on conditional bail.
Home Office lawyers told the Court of Appeal that Home Secretary Theresa May had "very strong reasons" to believe Mr Salah should be "in detention".
But Lord Justice Aikens refused to give Mrs May permission to appeal against a High Court judge's decision on 15 July to grant Mr Salah bail.
Later, a Home Office spokesman said: "We are very disappointed with the court's decision and will monitor Salah's activities extremely closely. We are still seeking to deport him."
'Racial tensions'
At the Court of Appeal, Robert Kellar, for the home secretary, said: "The home secretary considers there are very strong reasons for believing (Mr Salah) should remain in detention.
"The secretary of state took the view, and still takes the view, that individuals such as (Mr Salah), who are well-known, are capable of inciting violence simply by their presence in the UK.
"The secretary of state's position is that (Mr Salah's) presence in the UK is not conducive to the public good - not just for what he says but what he stands for."
Lord Justice Aikens said: "It is said (Mr Salah) has a long record of making statements, not necessarily in this country but in others, which are inflammatory, likely to give rise to racial tensions and might also encourage terrorism and other violent acts."
He said Home Office lawyers had raised a legal issue and might succeed in persuading a higher court to overturn his decision to continue conditional bail.
But he said the High Court was scheduled to hear legal argument on Mr Salah's judicial review claim in September.
He said a bail hearing could not be listed before then so there was no practical purpose in granting permission to appeal against the decision.
Lord Justice Aikens said if Mr Salah's judicial review claim failed he would "return to detention".
'Legitimate organisation'
Mr Salah, who has Israeli citizenship, was invited to the UK by a group called the Middle East Monitor and said he only planned to stay for 10 days.
On the group's website, a statement from Mr Salah's solicitor, Tayab Ali, said they were pleased the courts have "grasped the issues in this case".
He added: "However, we are concerned that the home secretary sought to have our client returned to custody, despite the carefully reasoned decision of the High Court to release him.
"We trust that, following today's decision, the home secretary will accept that her approach to Sheikh Salah's case has been misconceived and counter-productive."
"We are confident that Sheikh Salah will be vindicated and that he will be permitted to speak freely about the struggle of his people for freedom and self-determination."
Mr Salah was detained on 28 June in London after he returned from a meeting in Leicester, where he had addressed a 500-strong audience.
The court heard his entry into the UK was the subject of a Home Office investigation and there was no suggestion that Mr Salah had been deceptive.
The Palestine Solidarity Campaign said Mr Salah was the leader of a legitimate political organisation which had rejected all forms of racism, including anti-Semitism.
The stated aim of the Islamic Movement in Israel is to advocate Islam among Arab Israelis, offer education and social services and promote a Palestinian nationalistic stance.
Israel's Arab community numbers 1.4 million, some 20% of the population. It includes Palestinians who remained in Israel after the 1948 establishment of the Jewish state and their descendants.