RAF airman blogging from Afghanistan's front line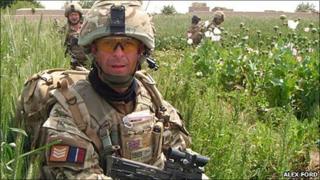 A blog about the life of an RAF airman currently on tour in Afghanistan has notched up 80,000 hits, thanks to its blend of humour and gritty realism. So what is the attraction in describing war?
Afghanistan. The name conjures images of troops under fire, roadside bombs, helicopters and - when news is at its worst - funeral corteges.
But it is very difficult to get a sense from news reports of what real life there is like.
Followers of the RAF Airman blog, however, have a deeper insight.
The thrill of a first can of fizzy pop for months and the pains of sitting cross-legged while meeting tribal elders are among the odder realities of war brought to life by its author, Sgt Alex Ford.
The 41-year-old mines a rich vein of anecdotes through his work as an intermediary between British forces and the Afghan people.
The results are often comical, such as his description of a farmer bursting into his office to complain that UK forces had "stolen mud" from a field they were leasing as a place to burn off waste.
But the blog also explains the psychological pressures of war with a brutal honesty that is hard to come by elsewhere.
"On my first patrol I was bricking it," he admits in one entry..
"I was filled with the thoughts of IEDs [hidden bombs] everywhere and that the bad guys were going to be watching us... lying in a ditch with their fingers on the trigger of a command wire ready to blow us - me - to kingdom come."
His explanation of how his "spidey-sense" - an instinct for sensing when something was amiss - calmed him, gives readers insight to how troops handle these pressures.
Born and raised in Uttoxeter, Staffordshire, Sgt Ford says he had the choice of "staying in town and building JCBs" at the nearby factory or following his father and brother into the RAF.
An avionics technician by trade, he moved from fixing radar on Tornado fighter jets to an office role at RAF Benson, Oxfordshire, helping squadrons to continually improve.
Sgt Ford was an early convert to Twitter and found that - aside from updates about daily life - tweets about his job attracted growing interest.
When the Ministry of Defence began encouraging people to communicate their military experiences, he launched a dedicated RAFairman Twitter account - and later developed the blog.
"I didn't think that the RAF was particularly good at shouting about itself," he recalls.
And being posted to a patrol base in Helmand province, where his role involves helping the Afghan population recover from years of war, gave the blog an added dimension.
Much of his motivation comes from the fact news reports often show only the "bad side" of Afghanistan.
Laughter
"That is not the whole story," he says.
"This war is more than just people coming home dead and injured. It's about how people carry on living and working in often very harsh conditions.
"People at home want to know how their troops are living, what they do on a day to day basis. The news media often doesn't have the time to tell the good stories - so someone has to."
Judging from his blog, there is plenty of room for laughter in everyday life.
"To get through some of this out here you have to laugh at it," admits Sgt Ford.
"When you fall into an irrigation ditch - and are soaking for the duration of the next four-hour patrol - that's funny. No matter which way you look at it."
The blog also puts into words how difficult it is to be so far from home for months on end.
Bittersweet
Sgt Ford describes Afghanistan's most pleasant and peaceful time of day - sunset - as a bittersweet time when he most misses his fiancee, two-year-old daughter and two teenage children from a previous marriage.
He becomes envious of those who can enjoy the mundane aspects of normal life - emptying bins, doing laundry - or the washing up.
"You want to stand at the kitchen window and watch your daughter run around in the garden chasing butterflies," he writes in one post.
Unlike newspaper and TV reports, the blog also gives a more intimate impression of the Afghan people.
"The people I have met out here have pretty much all been some of the most friendly and kind people I have ever met in the world," he writes.
"They share what little they have with us.
"A minority don't want us here and want to hurt us... the majority just want to get on with their lives."
He describes one episode where a reliable engineer, used regularly by the International force, is shot at by a Taliban fighter unhappy at him working for foreigners.
Sgt Ford describes his horror on hearing that the man he sent to do the work, Gul, had been put in danger.
However, Gul's response to the intimidation was simple: "This was Afghanistan. Things like this happened. Next time he would bring a bit of security with him."
'Banter'
As the only airman on the base - his current post is one staffed from all three services - Sgt Ford admits there is a "fair bit of banter" with the soldiers stationed there.
But his deep respect for the Army shines through in posts, like when he talks of his "guardian angel" taking the form of an Apache helicopter while on patrol.
The irony is that he need not find himself in the firing line at all. Sgt Ford volunteered to go because he felt "a bit of a fraud" for not having recently been deployed.
His fiancee, who sees war injuries up close in her job as an Army medic at Birmingham's Selly Oak Hospital, was unimpressed, he says.
But he says he wants to leave the forces with his "head held high" - and that means facing danger.
"The point about volunteering to come out here... was to actually go out on the ground.
"My role out here means that I have to get out and be amongst the people. You simply have to go on patrols with the guys."
Through his blog and tweets, he takes thousands of people back home with him.