One year to go: Your views on London Olympics 2012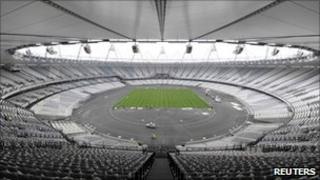 There's a year to go before the opening ceremony of the Olympic Games in London.
The design of the 2012 medals will be revealed, as will the inside of the aquatic centre - with British diver Tom Daley set to take the first plunge.
The BBC asked people around the country how they were feeling about the upcoming sporting extravaganza and whether they were planning to travel to London to watch any events.
Eugene Williams, 50, legal adviser, Birmingham
I will watch it, though I'm not that bothered about going to any actual events.
We're getting the Jamaican and American teams training here in Birmingham and some events are being held here, and any media attention that comes with that is great for the city.
I don't mind that most of it will take place in London, it needs to have one central base and it would be difficult to hold some of the events elsewhere.
It could lose the crowds or the media attention if a lot of events were held elsewhere.
It will unite people from all cultures and communities, people supporting their countries, friendly rivalry, a reason to celebrate, there will be a real sense that everyone's happy.
Godfrey Doolan, 62, clothes shop owner, Swansea
I'd like to be going - very much so - but unfortunately I'm not. I'll be following the athletics, gymnastics and judo on television when I can.
Obviously it's London-based, but I would have liked to see possibly more events at the Millennium Stadium outside of the football which is being held there.
I think we could also have done a bit more with Newport regarding the velodrome there and the cycling.
But overall it's the feelgood factor and with the depressed situation that we are fed everyday I think its going to be fantastic for the country quite frankly.
I'm looking forward to the Welsh input there with our Welsh athletes competing with others from around the world.
Grace Holcombe, 22, teaching assistant, Cardiff
I did apply for tickets, but when it came to buying them I didn't have the money at the time.
I always look forward to the athletics. I think it's the main event and the most exciting. I also like watching gymnastics because I always wanted to be a gymnast when I was younger.
I thought that maybe as we had a new athletics stadium they might use that, but I'm not sure what scale they need. Wales tends to be a bit left out.
It costs a lot to bring it to this country and the money could be spent elsewhere. But it is a one-time only event and I think we will do a great job.
Andrew Smith, 37, photographer, Newtonmore
I won't be attending, but will watch some events on TV. It would be too expensive to attend. The cost of a few tickets plus travel and accommodation for myself and my partner could easily exceed £500.
It does come across as being a London event, not a UK event. Hopefully the torch run throughout the country will help in making it feel more like a national event.
I'll watch the opening and closing ceremonies, and probably watch the finals of some athletics events.
If any events start making news, perhaps because one competitor is doing exceptionally well, then I'll watch those.
I watched the Olympics on TV as a kid. I have fond memories of staying up late with my Mum to watch the Los Angeles Olympics. But the last couple of Olympics haven't really been on my radar due to work commitments and lack of time to watch them.
Graeme Thomson, 40, company director, Aberdeen.
I have a strong feeling that the event is too London orientated.
I know it's the capital, but the country's taxpayers are funding the building of the arenas and the hosting. It will probably only be the south of England that will benefit financially.
What will Scotland's economy get out of London hosting the Olympics? Scottish food producers may benefit, and perhaps we will get a small percentage of tourism, but there will not be very much for the construction sectors.
I also have concern about the future of some of the arenas.
I will probably mainly only watch the opening and closing ceremonies, and some track events - and maybe the women's beach volleyball!
Rob Shanks, 32, Norwich
I think a lot of people have been downbeat about what's going on and it's a really positive thing and I'm looking forward to it. It's a great thing for the country. Financially we're in a very negative period and I think it'll help with that.
I did think about applying for tickets but because of the situation I'm in [recently made redundant] the money wasn't there to go.
I'll certainly be paying attention and watching it on the telly and watch as much of it as I can. I would have liked to have gone for the experience. If I was closer I'd certainly think about it.
Jimmy, 25, gardener, London
I'm excited to have the Olympic Games here but a bit worried about the terrorism threat. I'll enjoy it but I did try to get tickets - four for the diving - but didn't get any so I'll have to watch on TV and have a fun time. All the water events are my favourites - canoeing and rowing.
It'll be a good thing for London and bring more people in and around the city, more money in - it'll have everything. People will have a good time too with the music events and bands.
Rotem Journo, sales assistant, London
I think it's very exciting and good for the economy of London, and good for us as employees. It's good for jobs - and the new shopping mall in Stratford will be open.
It will be exciting as well with all the people and tourists around.
I really want to see it and of course I'll be watching on TV - not everything - but the athletics and running.
Marlene Fox, 70, charity shop volunteer, Liverpool
I will watch the athletics and swimming. I really like those sports, so will really look forward to watching them on TV.
I didn't apply for tickets as I couldn't afford it, but am happy to watch it on television.
I think Liverpool probably won't get any events - it is a shame that many regions will miss out, we could all use the boost.
It's still a long way off, and I'm not really thinking about it yet. But, as it gets nearer, I think the momentum will get going and people will start getting much more excited about it and interested.
I hope it's good for the economy - it's costing a lot to put it on and I hope we make the money back.
Maurice Walker, pensioner, Belfast
I'll not be going to anything because obviously I am a pensioner and the tickets would be dear enough in themselves before you take in the cost of the flights and the hotels and everything else.
I would have liked to have gone because it's the first time something like this will have been here for a long time. I'll be keen to watch on television, especially the track-and-field and the smaller events, like the boxing, that you normally associate with the Olympics.
It would have been nice if some of the events had been held over here. There are a lot of different sports in the Olympics now and I think they could have been spread about a bit more so that more people could get the chance to go to them.
Heather Bell, mother-of-one, Belfast
I haven't really any interest in sport and the fact that it's such a big event doesn't really make it any more appealing.
To be honest, even if I was sporty I think I would be put off by how far away it is and all the problems there seems to have been with the tickets. I've been following it all on the news and it seems like a mess.
It always seems to be the way with these things and it makes you wonder if it puts people off bothering to try.