George Osborne welcomes Greece debt deal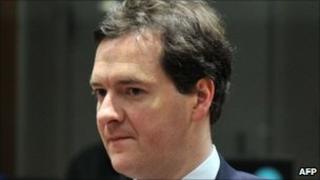 Chancellor George Osborne has welcomed the new bailout package for debt-ridden Greece, saying eurozone members had taken "decisive economic action".
He also emphasised that the UK government had delivered on its promise to keep the country out of the bailout.
But he said the UK had a "huge interest" in a stable eurozone and longer term changes were needed.
Leaders of the eurozone countries have agreed a new bailout package for Greece worth 109bn euros ($155bn, £96.3bn).
It was agreed at an emergency summit of the eurozone's 17 member countries.
Mr Osborne said: "The first thing British taxpayers should know is that we have delivered on our promise to keep the UK out of the Greek bailout.
"But Britain also has a huge interest in a stable eurozone. The package from eurozone countries to support Greece is an important and positive development.
"Even more positive is the demonstration that eurozone political leaders can take decisive economic action.
"That is what they now have to sustain, not just on the details of this package, but also on the longer term changes needed to make the euro work. They have shown they can get a grip, now they need to keep it."
Global confidence
But the deal has come in for criticism from Eurosceptic Conservatives, with backbench MP Bill Cash saying the best solution for Greece was "to get out of the European zone and actually to re-establish a regime in which it can grow".
"The reality is that there is no growth with this massive over-regulation in Europe taking up four, maybe 10% of Greek GDP."
And he warned against Britain signing up to any package that would involve closer European union, arguing instead that the eurozone crisis should be used as an opportunity to renegotiate the UK's membership.
"If it's done by way of a treaty which locks us into the treaty arrangements, but allows the rest of Europe to go ahead with fiscal union, it is effectively creating an aircraft carrier to which we are tied with a rope," he told the BBC News channel.
"And that, of course, will not be in our interest. We need a referendum."
Former minister John Redwood, writing on his blog, said: "All this looks like bad news for the better-run Euroland states. They will pay more to ailing countries.
"They will use their own better credit ratings to borrow to lend more to the troubled countries. This could gradually erode their credit status.
"Predictably the EU is going for more integration, not less, for doubling the bet on the euro rather than quitting."
Shadow Chancellor Ed Balls has, meanwhile, accused the government of "sitting on its hands and not engaging with this eurozone debate" and of being distracted by the unfolding phone hacking crisis.
In an article for left-wing magazine Tribune, Mr Balls said: "When Britain could be showing leadership - acting as an honest broker in negotiations and proposing a solution for the euro area - our chancellor is absent.
"For him the present crisis seems little more than an excuse to invent more false comparisons between Britain and countries like Greece and Portugal - or to try and blame the current eurozone crisis for the difficulties Britain has been facing since the autumn."
Debt contagion
Greece received its first aid package in May last year, but the debt crisis continues to undermine confidence in global financial markets, with some commentators suggesting it threatens the future of the euro itself.
Athens has already implemented a raft of wide-ranging austerity measures, including spending cuts and tax rises, and earlier this month agreed to further drastic action to cut its debt.
For the first time, the new bailout involves private lenders, including banks, pledging support which will give Greece easier repayment terms.
The deal includes the doubling of the maturity of Greece's package from seven-and-a-half years to 15 years and the interest rate being cut to about 3.5%.
The relaxation in lending conditions was also extended to bailed-out Portugal and the Republic of Ireland in an attempt to finally ensure the stability of the single currency and stave off debt contagion from spreading to Italy and Spain.
The deal also involves support from the International Monetary Fund (IMF). Banks and other private investors will contribute 37bn euros to the package.