Maternity map: Births to midwives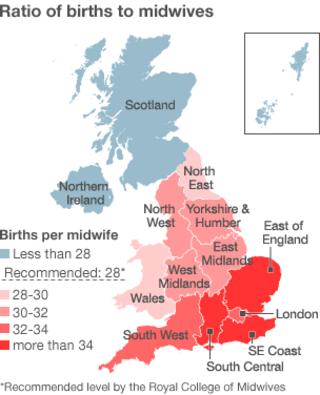 Staff shortages mean the number of births that midwives have to deal with exceeds recommended levels in most areas of the UK, a Panorama investigation has found.
To provide a safe maternity service, the Royal College of Midwives (RCM) says there should be an average midwife to birth ratio of one midwife for every 28 births.
Panorama's survey found that the average ratio in England is much higher than that - at one midwife for every 33 births.
In Wales, it is slightly higher at one to 30, while Northern Ireland meets the recommended level. In Scotland, there is an average of one midwife for just 26 births.
Use the table below to see the variations between hospital trusts and health boards from the across the nations.
Click the headings to sort the data alphabetically or numerically.
Ratio of Births to Midwives

Regions & Nations
Trusts & Health Boards
RATIO
UPDATE 12 August 2011: The midwifery staffing data relating to Aneurin Bevan Health Board has been amended. The health board provided incorrect information in its initial response to the BBC.
London
West Middlesex University Hospital
43.88
South East Coast
Ashford and St Peter's Hospitals
43.59
South West
Wiltshire PCT
43.53
South Central
Basingstoke and North Hampshire
42.44
South West
Great Western Hospitals
41.54
South Central
Heatherwood and Wexham Park Hospitals
41.18
London
Barnet and Chase Farm Hospitals
40.65
East of England
West Hertfordshire Hospitals
40.24
South West
Poole Hospital
39.6
South West
University Hospitals Bristol
39.45
East of England
Cambridge University Hospitals
38.21
East of England
Mid Essex Hospital Services
38.13
London
Imperial College Healthcare
37.86
London
Ealing Hospital
37.72
London
Whipps Cross University Hospital
37.52
London
Barking, Havering and Redbridge University Hospitals
37.44
London
Croydon Health Services
37.31
West Midlands
George Eliot Hospital
37.31
South East Coast
Surrey and Sussex Healthcare
37.08
London
South London Healthcare
36.94
West Midlands
University Hospitals Coventry and Warwickshire
36.85
East of England
The Princess Alexandra Hospital
36.62
West Midlands
The Dudley Group Of Hospitals
36.53
East of England
East and North Hertfordshire
36.48
Yorkshire and the Humber
Northern Lincolnshire and Goole Hospitals
36.48
South Central
Oxford Radcliffe Hospitals
36.38
East of England
Bedford Hospital
36.32
London
The Hillingdon Hospital
36.03
North West
Countess Of Chester Hospital
35.93
South Central
Royal Berkshire
35.81
London
Kingston Hospital
35.79
South Central
Buckinghamshire Healthcare
35.59
North West
Blackpool Teaching Hospitals
35.46
Yorkshire and the Humber
Harrogate and District
35.46
South East Coast
Medway
35.41
South Central
Milton Keynes Hospital
35.32
East of England
Peterborough and Stamford Hospitals
35.27
North West
Warrington and Halton Hospitals
35.27
South East Coast
Dartford and Gravesham
35.12
London
North Middlesex University Hospital
35.07
London
Homerton University Hospital
34.84
East Midlands
University Hospitals Of Leicester
34.79
Yorkshire and the Humber
Calderdale and Huddersfield
34.68
South East Coast
Frimley Park Hospital
34.54
South East Coast
Maidstone and Tunbridge Wells
34.08
East of England
Luton and Dunstable Hospital
33.98
Yorkshire and the Humber
Barnsley Hospital
33.92
West Midlands
Burton Hospitals
33.84
North West
North Cumbria University Hospitals
33.78
South East Coast
Brighton and Sussex University Hospitals
33.54
West Midlands
The Royal Wolverhampton Hospitals
33.46
East of England
Hinchingbrooke Health Care
33.31
East of England
Ipswich Hospital
33.28
East of England
Norfolk and Norwich University Hospitals
33.11
South West
Salisbury
32.72
North West
Southport and Ormskirk Hospital
32.72
London
Guy's and St Thomas'
32.71
North West
Salford Royal
32.6
East of England
Colchester Hospital University
32.47
West Midlands
Wye Valley
32.47
North West
Stockport
32.44
North West
St Helens and Knowsley Hospitals
32.28
West Midlands
South Warwickshire
32.24
North West
Pennine Acute Hospitals
32.23
South West
Taunton and Somerset
32.18
North West
Lancashire Teaching Hospitals
32.13
West Midlands
Walsall Hospitals
32.1
West Midlands
Sandwell and West Birmingham Hospitals
32.06
North West
Wrightington, Wigan and Leigh
31.99
North West
Mid Cheshire Hospitals
31.94
London
Chelsea and Westminster Hospital
31.77
South East Coast
East Kent Hospitals University
31.76
North East
South Tees Hospitals
31.76
North West
Liverpool Women's
31.51
Yorkshire and the Humber
Doncaster and Bassetlaw Hospitals
31.41
South Central
Southampton University Hospitals
31.37
South West
North Bristol
31.33
East Midlands
Chesterfield Royal Hospital
31.15
London
Royal Free Hampstead
31.14
West Midlands
Heart Of England
31.05
London
North West London Hospitals
30.91
East Midlands
Kettering General Hospital
30.89
South West
South Devon Healthcare
30.89
West Midlands
Birmingham Women's
30.81
East Midlands
Nottingham University Hospitals
30.81
London
Newham University Hospital
30.77
North East
City Hospitals Sunderland
30.65
East of England
Basildon and Thurrock University Hospitals
30.61
West Midlands
University Hospital Of North Staffordshire
30.53
North West
East Cheshire
30.33
South West
Royal Devon and Exeter
30.13
North West
Royal Bolton Hospital
29.99
Wales
Abertawe Bro Morgannwg
29.99
Wales
Cardiff & Vale
29.98
North West
Wirral University Teaching Hospital
29.95
Scotland
Lothian
29.91
East of England
James Paget University Hospitals
29.87
Northern Ireland
Southern Health and Social Care
29.85
South East Coast
Western Sussex Hospitals
29.79
East Midlands
Derby Hospitals
29.73
South Central
Portsmouth Hospitals
29.73
Scotland
Greater Glasgow and Clyde
29.73
South Central
Isle of Wight NHS PCT
29.71
South Central
Winchester and Eastleigh Healthcare
29.64
Yorkshire and the Humber
Sheffield Teaching Hospitals
29.63
North East
County Durham and Darlington
29.56
West Midlands
Shrewsbury and Telford Hospital
29.49
London
St George's Healthcare
29.34
West Midlands
Worcestershire Acute Hospitals
29.08
Northern Ireland
South Eastern Health and Social Care Trust
29.04
Scotland
Grampian
28.84
North West
Central Manchester University Hospitals
28.61
North West
Tameside Hospital
28.05
Wales
Cwm Taf
27.72
East of England
West Suffolk Hospitals
27.68
North West
University Hospital Of South Manchester
27.64
South West
Yeovil District Hospital
27.62
North East
South Tyneside
27.52
Northern Ireland
Belfast Health and Social Care Trust
27.06
East Midlands
Northampton General Hospital
26.64
London
Epsom and St Helier University Hospitals
26.57
East Midlands
Sherwood Forest Hospitals
26.54
Scotland
Tayside
26.14
Northern Ireland
Western Health and Social Care
25.88
London
King's College Hospital
25.85
Wales
Betsi Cadwaladr University
25.83
West Midlands
Mid Staffordshire
25.64
North West
University Hospitals Of Morecambe Bay
25.46
Scotland
Lanarkshire
25.43
Wales
Hywel Dda
25.21
South West
Northern Devon Healthcare
25.08
Scotland
Borders
24.64
Northern Ireland
Northern Health and Social Care Trust
24.03
Scotland
Forth Valley
23.89
Yorkshire and the Humber
The Rotherham
23.86
Scotland
Ayrshire & Arran
23.69
Wales
Aneurin Bevan
23.13*
Scotland
Fife
23.09
London
The Whittington Hospital
22.03
North East
Northumbria Healthcare
21.63
Yorkshire and the Humber
Scarborough and North East Yorkshire Health Care
21.23
Scotland
Dumfries and Galloway
18.74
Scotland
Orkney
18.33
Scotland
Highland
16.11
Scotland
Shetland
13.48
Wales
Powys Teaching
11.65
South West
The Royal Bournemouth and Christchurch Hospitals
11.18
South West
Weston Area Health
10.4
Scotland
Western Isles
9.27
No Data Available

Regions & Nations
Trusts & Health Boards
Yorkshire and the Humber
Airedale
London
Barts and The London
Yorkshire and the Humber
Bradford Teaching Hospitals
South West
Dorset County Hospital
North West
East Lancashire Hospitals
South East Coast
East Sussex Hospitals
North East
Gateshead Health
South West
Gloucestershire Hospitals
Yorkshire and the Humber
Hull and East Yorkshire Hospitals
Yorkshire and the Humber
Leeds Teaching Hospitals
Yorkshire and the Humber
Mid Yorkshire Hospitals
North East
North Tees and Hartlepool
South West
Plymouth Hospitals
South West
Royal Cornwall Hospitals
South East Coast
Royal Surrey County
East of England
Southend University Hospital
London
The Lewisham Hospital
North East
The Newcastle Upon Tyne Hospitals
East of England
The Queen Elizabeth Hospital King's Lynn
East Midlands
United Lincolnshire Hospitals
London
University College London Hospitals
Yorkshire and the Humber
York Hospitals
Methodology
Panorama wrote to 171 NHS Trusts and Health Boards with responsibility for maternity services.
According to the Royal College of Midwives, an adequate ratio of midwives to births impacts upon both the safety and quality of maternity care. In order to provide every woman with one-to-one care throughout labour and childbirth, the RCM recommend a minimum ratio of one midwife for every 28 births.
Figures have been calculated using the total number of births in 2010, and the number of whole-time-equivalent midwives employed at each NHS Trust or Health Board on 1 May 2011.
All figures are based on information supplied directly by NHS Trusts and Health Boards.