Rise in jellyfish at UK beaches, say conservationists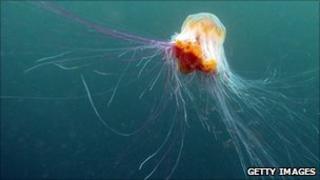 The number of jellyfish in waters around the UK coastline is on the increase, according to the Marine Conservation Society (MCS).
Over-fishing, pollution or climate change could be to blame, it says.
Beach visitors and swimmers are now being asked to report any sightings for a survey of jellyfish numbers.
Species found in UK waters include the barrel, moon, compass, blue and lion's mane jellyfish - none of which has a deadly sting.
The lion's mane jellyfish, spotted in the Irish Sea and by Norfolk, has the strongest sting of the species found off the UK.
The call for the public to help comes just three weeks after the Torness nuclear power plant in East Lothian was shut down for two days when swarms of moon jellyfish blocked cooling water filters.
The plant's operator, EDF Energy, said the shutdown had been a precautionary measure and the public were never in any danger.
Summer blooms
Peter Richardson, of the MCS, said: "We should consider jellyfish populations as important indicators of the state of our seas, and the MCS jellyfish survey helps provide some of the information we need to understand more about them.
"This year, we received our first reports of the huge but harmless barrel jellyfish off north Wales back in early January, and this species has occurred in huge numbers in the Irish Sea and beyond ever since, with reports received from north Somerset to the Firth of Clyde.
"Since May we have also received reports of large numbers of several other species of jellyfish from various coastal all sites round the UK."
He added that most jellyfish bloom in summer, but some species can survive the cool winter months too.
Exeter University's Dr Matthew Witt, who analyses the survey data, said no "shocking" revelations had emerged from the study yet but there were signs of a link between jellyfish numbers and the North Atlantic Oscillation, a phenomenon which affects warm air flow between the tropics and northern regions.