Two Britons arrested in Afghanistan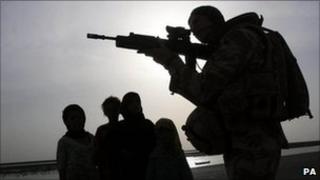 Two Britons have been arrested in Afghanistan, the Ministry of Defence has said.
The MoD said a male and a female had been detained in a joint operation between local forces and UK troops.
Some reports say they were arrested in Helmand province, but an Afghan source told the BBC they were arrested at a hotel in Herat.
The Britons are currently being held in a secure facility in Kandahar for questioning.
Nato forces in Afghanistan usually hold suspects for up to 96 hours before they are freed or sent to local authorities.
However, this can be extended in certain cases.
BBC security correspondent Gordon Corera said: "The two Britons picked up in Herat in recent days are believed to have gone to Afghanistan from the UK.
"They may have been under suspicion here and it's thought they had gone out to Afghanistan probably to make contacts."
He said they may have met people, potentially militants, with a view towards training and then carrying out some kind of attack back in the UK - but that is not certain.
And the BBC's Bilal Sarwary, in Kabul, quoted an Afghan intelligence official in Herat as saying: "Our agents played a key role in the arrests. Both were staying at a local hotel in the city."
The source added that the pair had dual citizenship but were not Afghans.
Stern test
In a statement, the MoD said: "We can confirm that two British passport holders were detained in an ISAF operation conducted jointly last week by UK forces with Afghans in support.
"Detention operations are a vital element of protecting UK, ISAF and Afghan forces and Afghan civilians from those who are assessed to pose a threat regardless of their nationality.
"All detention operations in Afghanistan carried out under the remit of the UN mandated International Security Assistance Force (ISAF), which includes those conducted by British Forces, are conducted in accordance with international law and strict policy frameworks.
"No further information will be released at this stage."
The Foreign Office said embassy staff were "providing assistance".
Meanwhile, Herat was handed from Nato to Afghan control on Thursday. There was not thought to be any link between this planned event and the arrests.
It comes a day after responsibility for security in Lashkar Gah, the capital of volatile Helmand province, was handed to Afghan forces.
In recent days Nato handed over the relatively peaceful province of Bamiyan and the eastern town of Mehtar Lam.
But analysts say that maintaining stability in Lashkar Gah will be the sternest test yet for local forces.
The handover is seen as a critical step in a transition of power before foreign troops end combat operations in 2014.