Archive reveals women's vital role in the Post Office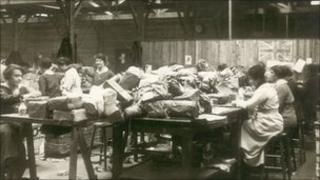 Records of Post Office workers dating back to 1737 have been published online for the first time.
The records include the stories of the women who kept the Royal Mail running during wartime.
The collection of 1.5 million names, including details of pay, dismissals, transfers and resignations, has been made public by The British Postal Museum & Archive.
It also lists 3,000 men called Pat who worked for Royal Mail over the years.
The list, published on family history website Ancestry.co.uk, shows the vital role of women in the history of the postal service.
From its early days, the Post Office employed women often as sub-postmistresses, running post offices as part of their business, or as postwomen, particularly in rural areas when men were not available.
From 1870, when the Post Office was given control of the telegraph system, many more women were employed in running the telegraphs and from here moved into administrative and clerical roles.
'Massive' resource
During the two world wars, women plugged the gap left by men leaving to join the armed forces.
Some 100,000 women were employed by the Post Office at the height of World War II.
They include Fanny King who was still trekking her nine-mile route in the Cotswolds at the age of 65 in the mid-20th Century.
The records also list 3,000 men called Pat and 4,500 women named as Patricia.
Ancestry.co.uk international content director Dan Jones said the archives are a "massive" family history resource.
He added: "The records also tell us a lot about the social history of the Post Office, in that it actively recruited women, particularly during the world wars, which led to a growing acceptance that work roles should not be defined by gender."
Gavin McGuffie, head of archives at The British Postal Museum & Archive, said: "We see the digitisation of these records as a crucial step in making the rich history of the Post Office available to everyone."