Court order to police over alleged Hugh Grant hacking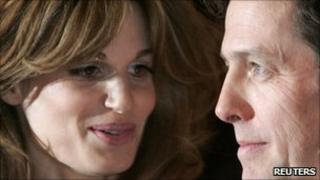 A High Court judge has ordered police to disclose information relating to alleged hacking of the voicemail messages of Hugh Grant and Jemima Khan.
Mr Justice Vos said the Metropolitan Police should disclose details of alleged hacking by a private investigator for the News of the World.
Mr Grant and Ms Khan were not in court and the Met did not oppose the order.
Hugh Grant was among figures who led calls for a public inquiry into phone hacking by the News of the World.
During the 20-minute hearing at the High Court in London on Wednesday lawyers representing Mr Grant and Ms Khan said police had indicated their telephone messages may have been intercepted.
Mr Grant's belief he was a victim of phone hacking led him to carry out an undercover investigation on the issue for the New Statesman magazine in April.
Ms Khan recently told The Independent she had become a member of the "hacked club".
She told the paper: "I do remember noticing that voicemail messages, which I had not yet listened to, were going directly to old or saved messages.
"I assumed, as any techno-moron would, that I had simply messed up the phone settings."
After it emerged earlier this month that among the phones hacked was that of murdered schoolgirl Milly Dowler, Mr Grant joined the Hacked Off campaign calling for a public inquiry.
The government later announced a judge-led inquiry to look at phone hacking and the wider issue of media regulation.
Hacking on 'industrial scale'
Mr Grant recently told the BBC how he secretly recorded a conversation with former News of the World journalist Paul McMullen after he "boasted" about phone hacking "on an industrial scale".
Asked if there was legitimate public interest in his private life, Mr Grant said: "There is certainly interest but it's back to the old cliche of what is interesting to the public and what is in the public interest.
"A lot of it is of interest to the public but none of it is in the public interest."
Mr Grant is one of thousands of people - from footballers, politicians and actors to "ordinary people" - whose phones are believed to have been hacked by private investigator Glenn Mulcaire.
Several high-profile figures, including former Deputy Prime Minister Lord Prescott, actor Jude Law, television presenter Ulrika Jonsson and retired footballer Paul Gascoigne, have launched damages claims against News Group Newspapers, publishers of News of the World.
A civil trial at the High Court is due in January.
Mr Justice Vos is due to hear evidence about several "lead claimants" at the trial and assess damages.
Several people, including actress Sienna Miller and football pundit Andy Gray, have already settled out of court.