Ratcliffe power station protesters cleared on appeal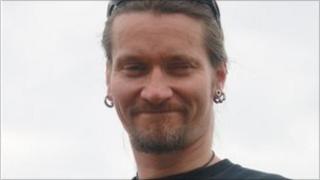 The convictions of 20 protesters for trying to shut down the UK's second largest power station have been quashed by the Court of Appeal.
The ruling came after it was revealed the group had been infiltrated by undercover police officer Mark Kennedy.
They had been convicted of conspiracy to commit aggravated trespass at the Ratcliffe-on-Soar coal-fired power station in Nottinghamshire.
The 20 had received either community orders or conditional discharges.
They were found guilty by a jury at Nottingham Crown Court in December and the judge accepted they were "decent men and women" motivated by their concern for the environment.
A later trial involving six protesters collapsed in January.
It followed claims that former Metropolitan Police officer Pc Kennedy - who had been using the name Mark Stone in his covert work - had changed sides and offered to give evidence on their behalf.
He was said to have spent seven years working undercover in the green movement across Europe.
The case was heard by the Lord Chief Justice, Lord Judge, sitting with two other judges.
Lord Judge said the convictions were unsafe "because of significant non-disclosure" of material "which would have been supportive of the defence case".
The full judgement outlining details of the decision will be given on Wednesday.
The 20 people who had their convictions quashed were:
David Barkshire, 45, of Sheffield; Paul Kahawatte, 26, of Whitstable, Kent; Ben Julian, 34, of Hackney, London; Spencer Cooke, 43, of Belper, Derbyshire; Martin Shaw, 46, of Oxford; Phillip Murray, 25, of Canterbury, Kent; Jesse Harris, 25, and Anna Rudd, 32, both of Leeds; Adam Waymouth, 27, of Salisbury, Wiltshire; Bradley Day, 23, of Swansea; Chris Kitchen, 33, of Colchester, Essex; Emma Sheppard, 30, of Manchester; Daniel Glass, 27, and Jonathan Leighton, 22, both of Glasgow; Olaf Bayer, 36, and Lisa Kamphausen, 27, both of Southampton; Clare Whitney, 26, of Cambridge, and Jacqueline Sheedy, 46, Sarah Shoraka, 33, and Ben Stewart, 37, all of Stoke Newington, London.