Devon farmer Richard Haddock 'forced out by TB'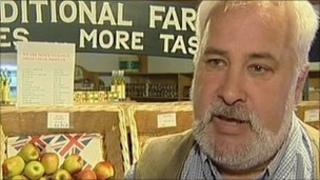 Devon Farmer Richard Haddock knows the devastating effect tuberculosis can have on cattle.
The last outbreak of TB on his farm at Coleton Barton last Christmas cost him £98,000 in lost profits.
He has now sold the 320-acre beef farm and blames the disease.
"We bought the farm in 1998 when it was bankrupt and we rebuilt it," Mr Haddock said.
"It was a hell of a wrench to sell, but TB started taking all the profits."
Bovine TB, which can be spread by badgers, has led to the slaughter of tens of thousands of cattle in recent years, costing the UK economy about £100m per year.
Culling of badgers could be piloted in parts of England next spring, with wider implementation in 2013, the government has announced.
The aim is to curb cattle tuberculosis, which badgers can spread to livestock, but the proposal has been opposed by some, including the Badgers Trust.
Mr Haddock said the source of bovine TB needed to be tackled.
He said TB was a "huge problem" in south Devon.
"You think everything's all right and then we go down again," he added.
He has now switched his operation to two tenanted farms, going from a total of 450 cattle to 60 which he hopes he can keep free of TB.
According to figures from the Department for Environment, Food and Rural Affairs (Defra), 1,844 cattle in Devon were slaughtered from January to March as a result of being tested positive for TB.
In 2010 a total of 5,653 cattle were slaughtered in Devon.
Mr Haddock said: "No-one is sure where TB comes from but badgers are probably the largest spreader of it.
"We don't want to eradicate badgers, but at the moment bovines are being eradicated and slaughtered and we are not tackling the source of the disease."
He said no farmers wanted to see the end of badgers.
"We want to see targeted culls and, in time, proper vaccination," he said.
"In the meantime we are fiddling and we are losing the bovine herds in this country."
Jack Reedy from the Badgers Trust said: "I can sympathise with Richard and all farmers who face bovine TB.
"But I think they have been badly misled.
"There is solid science that says if you cull badgers in restricted areas you are going to make the situation worse.
"If you disturb the population of one area, it tends to cause others to move in.
"And if there are still badgers with TB in that area, badgers coming in add to the threat."