Johann Hari suspended by Independent amid 'quotes row'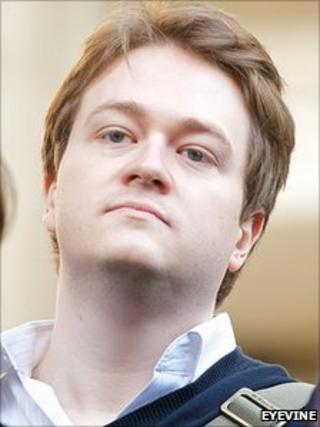 Independent writer Johann Hari has been suspended by the paper after becoming embroiled in a row over quotes used in his interviews.
The columnist is accused of lifting quotes from elsewhere without attributing the source of the material.
He was suspended pending the outcome of an internal investigation, the paper's editor confirmed on Tuesday. Chris Blackhurst said an investigation would report back in two months' time.
Mr Hari has previously apologised.
The columnist denied accusations of plagiarism and defended his actions in the newspaper and on his blog.
He said he took quotes from books and interviews by other journalists so that the reader "understands their point as clearly as possible".
The allegations first surfaced when political blog DSG found an interview Mr Hari wrote in 2004 which appeared to lift words from a 2003 book about Italian communist Toni Negri.
The editor of Yahoo! Ireland and blogger Brian Whelan then randomly selected another interview written by Mr Hari and searched through the quotes. Mr Whelan said he found the Independent interview with journalist Gideon Levy had used quotes from an article in Israel's Haaretz newspaper.
Writing on this blog in June, Mr Hari admitted taking quotes from elsewhere to use in his interviews, but added: "I stress: I have only ever done this where the interviewee was making the same or very similar point to me in the interview that they had already made more clearly in print.
"This is one reason why, after doing what must be over 50 interviews, none of my interviewees have ever said they had been misquoted, even when they feel I've been very harsh on them in other ways."
He said he had been subject to "to trial by Twitter" and wrote an apology published in the Independent.
He wrote: "Since my interviews are long intellectual profiles, not ones where I'm trying to ferret out a scoop or exclusive, I have, in the past, prioritised the former. That was, on reflection, a mistake, because it wasn't clear to the reader."
'Frustrating and offensive'
However, some media commentators and journalists were angered by his defence.
Telegraph blogger Toby Young wrote: "If his overwhelming concern is clarity and accuracy, shouldn't he be clear about the fact that the interviewee hasn't given that quotation to him?"
Anonymous blogger Fleet Street Fox said on her blog: "It also provokes many non-journalists to say 'ah yes, but you all lie, don't you?'
"It's the most common accusation hurled at the people in my trade, it is the easiest thing for a red-handed and red-faced public figure to splutter on a doorstep, and personally I find it the most frustrating and offensive."
Blogger Fleet Street Blues called the apology "stunningly brazen about playing fast and loose with the truth".
Mr Blackhurst said the investigation would be carried out by the newspaper's co-founder Andreas Whittam Smith and the newspaper had no further comment.
The BBC tried to contact Mr Hari. An automated response from his email address said: "I'm catching up on work after a tumultuous week, and then I'll be out of the country on an assignment."
Mr Hari, who was born in Glasgow but grew up in London, has written for the New York Times, Le Monde, the New York Times, the Los Angeles Times and the Sydney Morning Herald.
On his website he describes himself as an "award-winning journalist who writes twice-weekly for the Independent, one of Britain's leading newspapers, and the Huffington Post".
He won the Orwell Prize for political writing in 2008 and in 2010 was shortlisted for feature writer of the year at the British Press Awards.
The organisers of the Orwell Prize announced they were holding an inquiry into the 2008 prize after the row began.