Olympic tickets overcharging glitch hits hundreds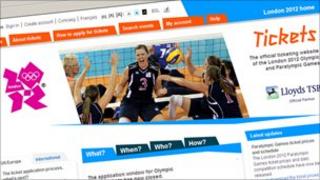 About 700 people have been charged twice for Olympic tickets, the BBC has learned.
The glitch affected people who bought London 2012 tickets in the first phase of the "second chance" sale.
Ticketmaster, the company that has been managing the Olympic ticket process, was alerted to the error when contacted by customers.
The company says it has refunded all those affected and is confident there are no more cases still to be found.
This is the latest in a series of embarrassments which Ticketmaster has faced while running the London 2012 sale.
The initial six week application window had to be extended because many people were unable to log on to the website in the hours leading up to the deadline.
There were further problems with the site during the second sale process, which left 15,000 people without the tickets which they believed they had purchased.
Now Ticketmaster has been forced to apologise for a mistake that is believed to have led to a number of those using debit cards to incur overdraft charges.
Ticketmaster told the BBC that it would contact all those customers who were affected before the end of the day and would work with them "directly regarding any issues they may have experienced".
In a statement the company said: "We are aware of a Ticketmaster processing error affecting a small number of customers who purchased tickets during the London 2012 Olympic Games second chance ticketing process. This resulted in recent payment for tickets being processed in error twice on 6 July 2011.
"As soon as this issue was identified, a credit was actioned immediately to fully refund the second payment into the same account, which customers will see on their card statements. We would like to offer our apologies for this error and any inconvenience caused."
More than 750,000 tickets were sold to 150,000 applicants during the second round of ticketing which was open to people who had been unsuccessful in the initial ballot.
Meanwhile, a further window of ticket sales is still open until 17 July to enable people who were successful in the ballot to buy more tickets.
However only football and freestyle wrestling remain. All other sports are sold out.
Bogus sites warning
Some UK residents are finding tickets are still available from the national Olympic committees of other participating countries in the European Economic Area and the European Free Trade Association area.
Locog says people should be aware of bogus websites when searching for tickets from overseas sources and urged them to use the London 2012 website checker to verify the sellers were genuine.
In total more than 3.5 million Olympic tickets have now been sold, according to Locog.
The initial ballot system attracted criticism from various quarters - including from consumer group Which? - for taking the cash from applicants' bank accounts before they knew which tickets they had been allocated.
Fewer than half of those who applied got tickets in the first round, as demand outstripped supply in many events. In the men's 100m athletics final more than one million tickets were requested.