Equality commission backs religious claims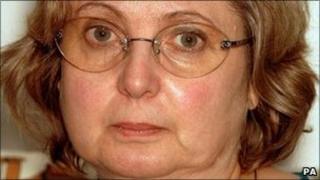 Four British Christians with religious discrimination claims at the European Court of Human Rights have been backed by the UK's equality watchdog.
The claimants include an airline worker who was prevented from wearing a cross and a relationship counsellor who refused to deal with gay couples.
The Equality and Human Rights Commission said judges had interpreted equality law "too narrowly".
This made it difficult for employers to protect freedom of religion, it added.
Cross row
The cases involve British Airways check-in clerk Nadia Eweida, nurse Shirley Chaplin, relationship counsellor Gary McFarlane and registrar Lilian Ladele
Ms Eweida, a Pentecostal Christian, was sent home from work in 2006 after refusing to remove a necklace with a cross
Mrs Chaplin was moved to a desk job by Royal Devon and Exeter NHS Trust Hospital for similar reasons
Mr McFarlane, a Bristol counsellor, was sacked for refusing to give relationship advice to gay people
Ms Ladele was disciplined after she refused to conduct same-sex civil partnership ceremonies in north London
'Reasonable adjustments'
The commission said judges had interpreted equality laws too narrowly in religious claims, leading employers to place undue restriction on how far Christians could behave in accordance with their beliefs.
John Wadham, legal group director at the commission, said: "Our intervention in these cases would encourage judges to interpret the law more broadly and more clearly to the benefit of people who are religious and those who are not.
"The idea of making reasonable adjustments to accommodate a person's needs has served disability discrimination law well for decades.
"It seems reasonable that a similar concept could be adopted to allow someone to manifest their religious beliefs."