Duke and Duchess of Cambridge to cut down royal duties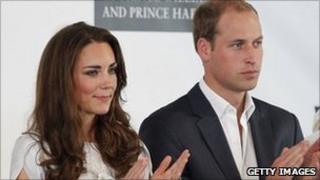 The Duke and Duchess of Cambridge are to cut down on their royal duties - partly to avoid overshadowing the Queen ahead of her Diamond Jubilee year.
The newly-married couple have just returned from a high-profile tour of Canada and the US but will take on few engagements this autumn and winter.
William and Kate were mindful that the Queen "quite rightly should be in the spotlight", a spokesman said.
The duke is also working towards an RAF Search and Rescue helicopter captaincy.
Meanwhile, the duchess is said to need time to plan which good causes she wants to become involved with, as well as learning about her husband's charitable interests.
She is thought unlikely to take on the patronage of a charity at this stage but may get involved with a project that will run for a set period.
A spokesman said: "She is already interested in particular in things like sports therapy and arts therapy. She's got to determine what her interests are and where she can actually make a difference."
Aides say the couple are conscious of how the Queen and Duke of Edinburgh spent their early married years living quietly in Malta, where Philip was based as a Royal Navy officer.
The Queen and the Prince of Wales are known to be "very supportive" of the plans.
'Keeping chilled'
The duke and duchess will make an appearance at the wedding of Zara Phillips and Mike Tindall in Edinburgh on 30 July.
There will be one or two routine public engagements a month through to the end of the year, with the most high-profile of these expected to be the royal gathering at the Cenotaph on Remembrance Sunday in November.
But the couple are said to want to spend time together as husband and wife in the run-up to Christmas and settle down in their north Wales home, near to where William is based at RAF Valley on Anglesey.
At some stage during 2012, William is due to be posted to the Falklands with the RAF Search and Rescue force for two months while Kate remains at home.
Also next year, the couple will join other senior members of the Royal Family in undertaking tours to the Queen's realms and Commonwealth nations to mark the Diamond Jubilee.
The spokesman said: "They are very conscious to make sure that the run-up to 2012 is the Queen's year.
"They have the rest of their lives to be public figures and working hard on behalf of the Queen and want to keep things on a level and enjoy their marriage."
He added: "Since they got married they were on honeymoon, in London for most of June for family events and other events and want to go back and have a married life together under the radar, and enjoy their life in Anglesey... keeping things chilled."