Gordon Brown 'targeted by Sunday Times'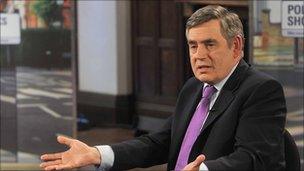 Gordon Brown is said to be "shocked" after it was alleged the Sunday Times targeted his personal information when he was Chancellor.
Documents and a phone recording suggest "blagging" was used to obtain private financial and property details.
The Browns also fear medical records relating to their son Fraser, whom the Sun revealed in 2006 had cystic fibrosis, may have been obtained.
News International said it would investigate the claims.
A spokeswoman for Gordon Brown said the former prime minister had "now been informed of the scale of the intrusion into his family's life".
"The family has been shocked by the level of criminality and the unethical means by which personal details have been obtained. The matter is in police hands," he said.
In a statement, News International said: "We note the allegations made today concerning the reporting of matters relating to Gordon Brown. So that we can investigate these matters further, we ask that all information concerning these allegations is provided to us."
The company, a subsidiary of Rupert Murdoch's News Corporation, owns the Sun and the Sunday Times, and also owned the News of the World which was shut last week amid allegations of phone-hacking and illegal payments to police officers.
Addressing MPs in the the Commons, Culture Secretary Jeremy Hunt described blagging as an "awful" practice and said the judge-led inquiry into phone-hacking would look at all illegal methods newspapers may have used in the past to obtain information.
In other developments in the phone-hacking scandal:
Evidence has been found suggesting a News of the World reporter tried to buy a phone book containing Royal Family numbers
Prince Charles and the Duchess of Cornwall may have also been targets of phone-hacking conducted at the News of the World, according to the Guardian
Scotland Yard says it believes stories have been leaked to the media as part of a "deliberate campaign to undermine" its inquiry into claims that bribes have been paid to some officers
Culture Secretary Jeremy Hunt confirms that he is referring News Corp's bid to take over BSkyB to the Competition Commission. It comes after News Corporation withdrew its proposed undertaking to sell Sky News as part of its bid.
The family of the murdered schoolgirl Milly Dowler met Deputy Prime Minister Nick Clegg to discuss concerns that her phone may have been hacked by the News of the World. The Dowler family called on Rebekah Brooks - the newspaper's editor at the time - to resign as chief executive of News International
The BBC understands Rebekah Brooks could be questioned by police as a witness, rather than a suspect. Mrs Brooks has denied having had any knowledge of hacking while she was editor from 2000 to 2003
Labour MP Tom Watson says the position of John Yates, assistant commissioner at the Metropolitan Police who led the original investigation into phone hacking, is "untenable"
Prime Minister David Cameron said he had had no information to suggest Mr Coulson knew about phone hacking when he employed him but if "those assurances were untrue, I would be incredibly angry and incredibly let down
The latest allegations relate to personal details it is claimed were obtained for a front-page Sunday Times report that Mr Brown, who later became prime minister, had purchased a flat owned by Robert Maxwell at a "knock-down price".
Blagging, or "knowingly or recklessly obtaining or disclosing personal data or information without the consent of the data controller" has been illegal since 1994.
The blagging reports concern alleged attempts by someone said to be acting for the Sunday Times who posed as Mr Brown and obtained details of his Abbey National account in January 2000.
It was discovered by the building society's fraud department which alleged someone successfully called their Bradford call centre six times pretending to be Brown and were given information.
In letters obtained by the BBC, the Abbey National wrote to Sunday Times editor John Witherow concluding it had suspicions that "someone from the Sunday Times or acting on its behalf has masqueraded as Mr Brown for the purpose of obtaining information from Abbey National by deception."
The Abbey National said to Mr Brown's lawyer it was a "well-orchestrated scheme of deception".
Abbey National has not been able to identify the blagger, and did accept in a letter to Mr Brown it did not have conclusive evidence.
However, the Guardian journalist Nick Davies has alleged a former actor John Ford carried out specialised blagging from banks during this period for the Sunday Times. This allegation is detailed in his book Flat Earth News.
On the reports on Fraser Brown having cystic fibrosis, the Brown family believe only medical staff treating their son had access to the records, and are worried they may have been accessed illegally.
A well-placed source has told the BBC that in 2006 when she was editor of the Sun, Rebekah Brooks called the Browns to inform them she knew that their son Fraser had the condition.
Friends of the Browns say the call caused them immense distress, since they were only coming to terms with the diagnosis, which had not been confirmed.
It has also emerged that Scotland Yard wrote to Mr Brown and his wife Sarah warning them that their personal details have been found in notebooks belonging to Glenn Mulcaire, the private investigator jailed for six months in 2007 for hacking into the phones of royal aides.
This contradicts advice given to Mr Brown last year.
Mr Brown's spokesman said he had passed all relevant information to the police "some time ago".