'Unstuffy royal couple' a hit on Canada tour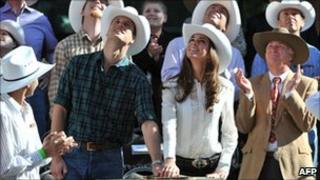 By any measure, the visit to Canada has been an unqualified success for William and Kate.
Putting aside the fact that Canada is possibly the most devoted audience anywhere in the world for the British (or to them, Canadian) monarchy - almost more loyal than Britain at times - the performance by William and Kate has been a winning one.
Their style has been unfussy and unstuffy; their approach, warm and down-to-earth, and their focus has been properly flattering rather than perfunctory to those whom they have met.
In short they have come across as pretty normal and approachable, though with that hard-to-define gloss which will always set them apart in public.
We should keep this in perspective. There have been royals before who've had the capacity to project warmth and humanity. And nobody is going to pretend that a nine-day royal tour is hugely intellectually demanding.
But it's easy to get these things wrong, and harder than it looks to get it right, especially when you are being subjected to the degree of intense worldwide media scrutiny that Kate has been under for the past few days.
Small talk and speeches
Perhaps one of the most striking aspects of the couple's visit to Canada has been to see how smoothly and assuredly the Royal Family's newest recruit has dealt with it all.
Kate doesn't appear to have put a stiletto-shod foot wrong. She has offered animated small talk when small talk has been called for; she's been composed and fully focused during speeches and presentations (indeed at those moments, she's showing herself to be rather better than William, who tends to fidget when he's listening to formal speeches), and both of them have reached out and engaged with people.
The visit to Canada has shown, perhaps more clearly and vividly than we've seen before, just how great is their potential to take the House of Windsor forward.
In his final speech in Calgary, William recalled his great grandmother's comment after her visit to Canada in 1939 with her husband, King George VI.
"Canada made us," said the then Queen. They were a monarch and his consort who had come to the throne at a perilous time, after the abdication crisis and before World War II.
They needed the reassurance that they could command the stage and be worthy of the trust of their peoples. Canada gave them that reassurance.
Seventy-two years later Canada has helped another royal couple who, in all probability, won't come to the throne for a good many years to understand what their future life together will involve and to define how they can make a success of it.