William and Kate welcomed by Los Angeles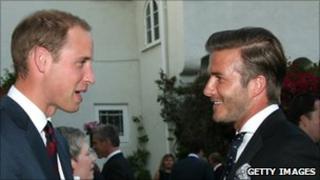 The Duke and Duchess of Cambridge have begun a visit to Los Angeles by attending two British-themed events.
The first was a UK Trade & Investment event focused on new media.
They were then reunited with famous friends David Beckham and Stephen Fry at a reception at the British consul-general's residence.
Prince William will play in a charity polo match later, before introducing Hollywood to up-and-coming British actors at a Bafta black-tie reception.
The California trip follows a nine-day visit to Canada by the royals.
It is their first official overseas trip as a married couple.
The couple arrived at the consul-general's residence, where they are staying during their visit, to cheers from residents who lined the streets to greet them.
Five helicopters flew noisily above the residence as American media tried to get a glimpse of the couple.
The duke and duchess were joined by about 200 guests at the drinks and canape reception in the garden of the residence, chatting to people around the pool and at tables that had been set up in the garden.
Guests included people associated with the Foundation of Prince William and Prince Harry and senior staff from the charity Centrepoint, which has the duke as patron, who are in LA for the royal couple's visit to the organisation's Inner-City Arts this weekend.
Kate wore a green silk gown by the American designer Diane Von Furstenberg for the event.
After the event, Fry tweeted: "Entirely charming evening at the British Consulate here in LA. The Cambridges dazzled everyone."
"They are the most genuine, down-to-earth people I have ever met," said Neil Stiles, the president of Variety magazine group who hosted the technology event at the Beverly Hilton Hotel.
William and Kate are to visit a community arts organisation working in the deprived Skid Row area of the city, as well as a jobs fair staged by charities that support the reintegration of servicemen and women into civilian life.
Speaking shortly ahead of the couple's arrival, Sir Nigel Sheinwald, Britain's ambassador to the US, said: "They have had a fantastically successful trip to Canada and they will have a great welcome in California.
"They will meet a huge range of people from the governor to people working in the projects of Skid Row. They will get a good snapshot of life in this part of California."
The city has taken measures to protect their privacy from the paparazzi, as police have enacted strict anti-trespassing measures to keep photographers at bay.