National Express 'got away scot-free' over East Coast failure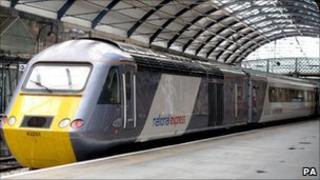 MPs have criticised the Department for Transport for letting National Express "get away scot-free" when terminating its East Coast rail franchise in 2009.
The DfT rejected an offer of £150m from the company to quit the loss-making franchise by mutual consent.
Instead it terminated the contract, receiving £120m from the company.
The report said the DfT judged giving up the extra cash would reduce the risk of other companies with loss-making franchises seeking similar deals.
But the DfT "undermined its position" by telling National Express any future franchise bids would be unaffected, the Commons public accounts committee said.
National Express, a coach and rail operator, had taken control of services between Edinburgh and London in 2007.
But instead of paying the government £1.4bn over seven-and-a-half years, it paid just £120m as the contract was terminated after less than two years.
The rail line is now being operated by the government.
"National Express failed to meet its profit forecasts from the very start, and when the economic downturn hit, the losses spiralled," said committee chairman Margaret Hodge.
When the company paid to walk away from the contract, the DfT turned down a £150m offer "in order to send a warning to other holding companies", Ms Hodge said.
"But the department completely undermined its position by making clear that the termination would not be held against National Express in future bids.
"In doing so, the department allowed National Express to get away scot-free and with its reputation intact.
"In future, the department must make clear to such companies that failure to deliver on their obligations will have serious lasting consequences."
'Costing the taxpayer'
Rail Minister Theresa Villiers said the previous Labour government had "failed to do their sums properly when they let the East Coast franchise to National Express in 2007".
The minister said: "They massively overestimated the income that they could expect from the franchise and failed to carry out a proper 'due diligence' check of the ability of National Express to deliver the returns they were predicting in their bid.
"That ended up costing the taxpayer money, when the franchise failed."
She added: "We are pressing ahead with reforms to the franchise system to get better value for money for taxpayers.
"The department cannot prevent any company from expressing an interest in a franchise competition, but past performance is considered when bids are assessed."
National Express was permitted to keep its two other franchises following the failure of the East Coast contract.
Bob Crow, general secretary of the RMT union, said the "shocking report" exposed what he called the "financial and operational madness of rail privatisation".
"Not only were National Express allowed to waltz away from one of the country's most prestigious routes without penalty, but we now find that it cost the British taxpayer a fortune in the process," he said.