Reaction to News of the World closure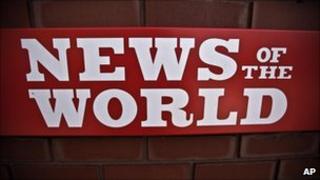 Reaction has come in to the announcement that Sunday's issue of the News of the World will be the last edition of the paper.
It follows claims the paper authorised hacking into mobile phones including those of murdered schoolgirl Milly Dowler and the families of 7/7 bombing victims.
In a statement to staff, News International chairman James Murdoch said the good things the paper does "have been sullied by behaviour that was wrong - indeed, if recent allegations are true, it was inhuman and has no place in our company".
James Murdoch, News International chairman
Rebekah [Brooks] and I are absolutely committed, this company is committed, to doing the right thing and what that means is about co-operating and working fully with the police investigations into those alleged practices and into those activities. It's also about putting into place the processes, so that we understand what happened and we have a process in place to make sure these things don't happen again. I'm satisfied that Rebekah, her leadership of this business and her standard of ethics and her standard of conduct throughout her career are very good."
News of the World editor Colin Myler
"This is the saddest day of my professional career. For 168 years the News of the World has been a huge part of many peoples' lives. Sundays without this great British institution will not be the same."
Ed Miliband, Labour leader
"It's a big decision but I don't think it solves the problem. Because after all lots of people are losing their jobs today but one of the people who's remaining in her job is the chief executive of News International who was the editor at the time ... What I'm interested in is not closing down newspapers. I'm interested in those who were responsible being brought to justice and those who had responsibility for the running of that newspaper taking their responsibility and I don't think those two things have happened today."
Alan Rusbridger, editor of the Guardian, which investigated phone hacking
"Mr Murdoch blames 'wrongdoers' who 'turned a good newsroom bad'. He does not say who these wrongdoers were - and that is the crucial question people will be asking, including those who are paying with their jobs and who are angry about the loss of a 168-year-old newspaper title."
Dan Wootton, NoW showbiz editor
You ask any journalist at the News of World about the allegations that have been made over the last week and we are disgusted. We are not reading about the newspaper we work for today - it's a brilliant newspaper and that's what is so sad about this. It was a decision that, we have been told, was made at board level in New York - that's the explanation that's been given to us. What we are sad about is our readers will no longer get the newspaper that they love and that they buy in their droves... For us, we didn't see this coming. Why the decision has been made, for the staff at the News of the World, is irrelevant to be honest. We are just devastated."
Tom Watson, Labour MP
"Let's be clear about this, this paper has closed but the hacking saga has not. The issue for me today is not whether Rupert Murdoch closes a paper that was going to go bankrupt because there are no advertisers or readers left, it is whether Rebekah Brooks is going to consider her position and resign as chief executive of News International.
"The anger will only subside when a very senior executive in this company takes responsibility for this heinous attack on British people."
Dowler family solicitor Mark Lewis
Mr Lewis told Sky News the newspaper's closure "won't make any difference at all to anybody's civil claims".
"Any crimes, any phone hacking, any other activities that were done weren't done by the News of the World, they were done by people working for it," he told Sky News. It's sad that other people have been sacrificed, will lose their jobs, but the people who are responsible are still there."
David Wooding, NoW political editor
"We knew we were in a bad place but we never expected a bombshell as big as this," he told the BBC News Channel.
He said hacking had happened under an entirely different group of staff, and added: "Hard-working journalists will carry the can for a previous regime."
Downing Street spokesman
"What matters is that all wrongdoing is exposed and those responsible for these appalling acts are brought to justice. As the prime minister has made clear, he is committed to establishing rigorous public inquiries to make sure this never happens in our country again."
Max Clifford, publicist
"They were obviously aware of not only the tremendous damage done to the News of the World but also News International by recent allegations.
"My belief is that there is a lot more to come - I think that is why the decision was taken to pull the plug."
Paul McMullan, former NoW features editor
"At one point it was selling nearly eight million copies and nearly every adult member in Britain, person, used to read it and there it is - gone."
Peter Preston, former Guardian editor
"The story isn't by any means over yet. This was a big bang but there will be plenty of pops along the road."
Hugh Grant, actor
"The News of the World was going out of business anyway, people were not going to buy it on Sunday, advertisers were falling out in their droves ... I think we should see this for what it is. It's a very cynical managerial manoeuvre which has put several hundred, not evil, people ... out of work and he's kept in particular one woman who was the editor [at the time] in a highly paid job."
Ken Clarke, Justice Secretary
On the news of the closure, Mr Clarke said: "All they're going to do is rebrand it."
John Prescott, former deputy prime minister
"It's a typical management stunt from Mr Murdoch. What he does is he gets rid of problems and in this case nobody in senior management ... none of those go but the poor old workers at the News of the World are going and there's no doubt it will become the Sunday Sun."
Rose Gentle, mother of British serviceman killed in Iraq
"The News of the World are the only journalists that we ever had bad dealings with. I'm glad that they're gone, but it doesn't mean we're going to give up the fight to find out if our families' phones were hacked."
John Whittingdale, chairman of the Commons Culture, Media and Sport Committee
"We still need to get to the bottom of what went on. If necessary, prosecutions should follow. I think we still need to find out what happened,"
Piers Morgan, former News of the World editor
"Shocked and saddened by closure of the News of the World," said Mr Morgan on Twitter.
"Scandals of past week indefensible, but has been a great British newspaper."
Alastair Campbell, Tony Blair's former communications director
"At various stages they could and should have dealt with this ... As a former journalist I don't rejoice over the death of a newspaper but I do think that this is just the result of all the illegal activity but also the huge mismanagement of it ever since this started."
Chris Bryant, Labour MP
"This is designed to try and protect Rebekah Brooks, and I believe that if she had a shred of decency after what we have heard about Milly Dowler's phone being hacked, which happened on her watch as editor, she should have resigned by now ... This strategy of chucking first journalists, then executives and now a whole newspaper overboard isn't going to protect the person at the helm of the ship."
Conservative minister Chris Grayling
"Today's decision, to my mind, is almost immaterial to the key goal right now and that is to understand who is responsible for what has happened, for them to be properly investigated by the police and put before the courts."
Ivan Lewis, shadow culture secretary
"There are some really good guys who work at the News of the World right now. I feel very sorry for those people. They are paying the price for the past. They are paying the price for a company at the highest levels that was so arrogant, so failed in its responsibilities to take the allegations seriously and clean out the stables."
Conservative MP Zac Goldsmith
"It has got to be a good day for Britain. I think the News of the World as an organisation is toxic on almost every level. I think the country after Sunday will be a better place.
Michelle Stanistreet, National Union of Journalists
"This shows the depths to which Rupert Murdoch and his lieutenants at News International are prepared to stoop. The announcement James Murdoch should be making today is the dismissal of Rebekah Brooks as chief executive of News International... Closing the title and sacking over 200 staff in the UK and Ireland, and putting scores more freelances and casuals out of a job, is an act of utter cynical opportunism."
Don Foster MP - Lib Dem media spokesman
"This is a commercial decision that will affect many staff who had nothing to do with the phone hacking scandal. We need to find out the full extent of the phone hacking scandal and of the alleged police corruption and see those responsible for these vile actions prosecuted before we can close this dark chapter in British media history."