Met head vows to act on media firm's payments to police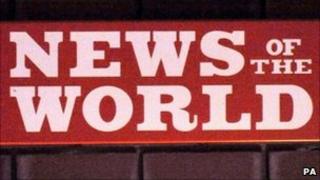 The Metropolitan Police chief has said any officer found to have received "inappropriate" payments from News International will be disciplined.
Sir Paul Stephenson said documents from the company, which allegedly showed such payments, were being investigated.
E-mails allegedly showing officers were paid tens of thousands of pounds have been seen by the BBC's Robert Peston.
It comes amid claims of phone hacking by the News of the World described as "deplorable" by owner Rupert Murdoch.
Newspaper watchdog the Press Complaints Commission (PCC) has announced it would launch a review of "all aspects of press regulation" in the wake of the allegations.
Mr Murdoch, chairman of News Corporation, the parent company of News International, said: "Recent allegations of phone hacking and making payments to police with respect to the News of the World are deplorable and unacceptable.
"I have made clear that our company must fully and proactively co-operate with the police in all investigations and that is exactly what News International has been doing and will continue to do under Rebekah Brooks's leadership," he added, in a statement.
"We are committed to addressing these issues fully and have taken a number of important steps to prevent them from happening again."
Earlier, News International said it had appointed a former director of public prosecutions to help it co-operate with police.
In a statement, the company said that the employment of Lord Macdonald QC in May demonstrated its "not only full cooperation" with the police, but News International's "determination as a company to deal responsibly and correctly with the issues that have arisen".
Meanwhile, Co-operative Group, Lloyds, Halifax, Virgin Holidays and car makers Vauxhall, Ford and Mitsubishi have all announced a halt on advertising in the News of the World, pending the newspaper's investigation and response.
The latest developments come after it emerged that murdered schoolgirl Milly Dowler and relatives of victims of the 7/7 bombings and the Soham murders may have had their phones hacked.
Other developments include:
David Cameron said there would be a public inquiry into phone hacking but only after the police complete their current investigation
He added that a further inquiry would look into the wider issue of media ethics
The journalist who sanctioned hacking murdered girl Milly Dowler's phone has been identified after News International conducted a trawl through their documents
The parents of murdered Soham girls Holly Wells and Jessica Chapman have been contacted by police investigating phone hacking
Relatives of 7/7 bombing victims have said police have contacted them to say their phones may have been hacked
Clarence Mitchell, the spokesman for Madeline McCann's parents, said he believed two attempts to gain information about his phone had been made
The News of the World is considering putting a front page apology on Sunday's paper
'Very transparent'
Paying police officers for information is illegal.
Sir Paul warned that "anyone identified of wrongdoing" as part of the inquiry "can expect the full weight of disciplinary measures and, if appropriate, action through the criminal courts".
The Independent Police Complaints Commission (IPCC) was made aware of the documents from News International last month, he said.
The documents were sent to the police on 20 June by News International as part of their internal investigations into phone hacking at their publication, the News of the World.
News International's director of corporate affairs, Simon Greenberg, said: "Given this is an ongoing police investigation, I cannot go into any detail about what is in those e-mails. The e-mails were passed over to the police some time ago.
"We have been very transparent with police, very open. We have a co-operative relationship with them where we hand them information if we discover something which we think may be of interest to them."
Meanwhile, the PCC said it would launch a review of all aspects of press regulation.
The newspaper watchdog, which is composed of "editorial" figures such as newspaper editors and "public" members drawn from different areas of public life, said it accepted it had a responsibility to ensure "events of this sort" never happened again.
In a statement, it said "public members of the commission will lead a review of all aspects of press regulation in its current form, which will be designed to ensure that public confidence is enhanced".
Its chairman Baroness Buscombe said the status quo was "clearly not an option", adding: "The PCC is determined to identify necessary reforms that will guarantee public confidence in press regulation."
In 2003, former News of the World editor Rebekah Brooks admitted to a parliamentary inquiry into the press and privacy that the paper had paid police for information in the past.
In a memo to staff on Tuesday, Ms Brooks said the allegations that a private investigator working for the News of the World had accessed Milly Dowler's phone when she was missing and deleted voice messages were "almost too horrific to believe" and that she was "sickened" by them.
She said it was "inconceivable" that she knew that Milly's phone had been hacked.
The new evidence which News International executives have uncovered on Wednesday is said not to contradict that statement, said the BBC's political editor Nick Robinson.
Graham Foulkes, whose son David died in the Edgware Road blast, told the BBC he was contacted by officers on Tuesday after his details were found on a list as part of the police inquiry in hacking claims.
"My wife and I were kind of all over the place, we were chatting to friends on the phone, in a very personal and deeply emotional context - and the thought that somebody may have been listening to that just looking for a cheap headline is just horrendous," he said.
Actor Hugh Grant, whose phone was allegedly hacked, said he had agreed to be a witness in any criminal trial after discovering private investigator Glenn Mulcaire apparently had "pages and pages of notes" on him.
'Significant development'
"It's a nasty moment when you see your pin numbers and things on someone else's notepad. It's a bit like discovering you're been burgled. There's quite a deep primeval fury that overcomes you," he said.
Business editor Robert Peston said the e-mail disclosure was "a significant development".
"When you have payments of tens of thousands of pounds, it seems to me to be pretty inconceivable that the only people who know about this is the editor and the reporter."
The Metropolitan Police launched Operation Weeting in January this year after new phone-hacking claims emerged. The force has faced criticism for its initial inquiry in 2006 into phone-hacking at the paper.
That investigation led to the convictions and imprisonment of Mulcaire and then News of the World royal editor Clive Goodman in 2007 for conspiracy to access phone messages left for members of the royal household.
A number of alleged phone-hacking victims have since reached out-of-court settlements with the newspaper.