News of the World 'hacked 7/7 family phones'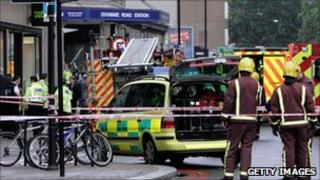 Families of 7/7 bombing victims may have had their phones hacked by the News of the World, it has emerged.
A solicitor for some of the relatives said one family had been told their phone may have been hacked in 2005.
The paper has also passed to police e-mails which allegedly show payments by it to the police were approved by the then editor Andy Coulson.
Meanwhile, the journalist who sanctioned hacking murdered girl Milly Dowler's phone has been identified.
BBC's political editor Nick Robinson said News International executives found the information after a trawl of their documents.
He said the information has yet to be handed to police although it was thought likely that they would already know it.
News International said it was determined to get to the bottom of this and that it would keep going until people viewed them in a "favourable" light.
'Very transparent'
Graham Foulkes, whose son David died in the Edgware Road blast, told the BBC he was contacted by officers on Tuesday after his details were found on a list as part of the police inquiry in hacking claims.
Mr Foulkes, of Oldham, Greater Manchester, recalled how his family had waited for a week after the 2005 attacks for news of David.
"My wife and I were kind of all over the place, we were chatting to friends on the phone, in a very personal and deeply emotional context - and the thought that somebody may have been listening to that just looking for a cheap headline is just horrendous."
He said police contacted him on Tuesday when they became aware of media reports that 7/7 victims' families may have had their phones hacked.
Paul Dadge, who helped survivors outside Edgware Road tube station after the 7/7 bombing, said he had also been contacted by police investigating phone hacking.
He said the families of the victims of 7/7 bombing will be distressed by the latest developments, which come a day before the sixth anniversary of the attack.
But he said he understood the pressure the media were under to report the bombings, in particular the difficulty of getting hold of relatives of people who were classed as missing at that point.
"I know the pressure was huge, not just at a reporter level but at an editorial level because I had various conversations with editors of national newspapers around that time."
Sean Cassidy, who lost his 22-year-old son Ciaran at the Russell Square bomb on 7/7, has also been contacted by police.
Speaking to BBC Five Live's Victoria Derbyshire, Mr Cassidy said: "Why did they need to go behind our backs as we co-operated with the News of the World at the time?"
On the same programme, News International's director of corporate affairs, Simon Greenberg, said: "If there are mistakes made by this organisation, we will correct them.
"It is inevitable that we will be called to account...and at the appropriate time we will be more than happy to sit down and talk about what happened."
Speaking directly to Mr Greenberg, Mr Cassidy said: "I'm really annoyed with you and I think it's disgraceful."
Mr Foulkes said he would like to meet News International's owner, Rupert Murdoch, to talk to him about "the power he has".
He added: "I certainly think that News International need to come clean, they need to accept their responsibility and their culpability, and they need to do the decent thing, but I suppose they won't."
Speaking on BBC Radio 4's Today programme, Mr Greenberg said a meeting between Mr Murdoch and Mr Foulkes was "something we would consider".
He added: "Given this is an ongoing police investigation, I cannot go into any detail about what is in those e-mails. The e-mails were passed over to the police some time ago.
"We have been very transparent with police, very open. We have a co-operative relationship with them where we hand them information if we discover something which we think may be of information to them."
He added that the sentiments which former editor Rebekah Brooks expressed on Tuesday in relation to Milly Dowler's phone being hacked also applied to the families of the 7/7 bombings and the Soham murders who may also have had their phones hacked.
In a memo to staff on Tuesday, Ms Brooks said the allegations were "almost too horrific to believe" and that she was "sickened" by them.
She said it was "inconceivable" that she knew that Milly's phone had been hacked.
And the new evidence which News International executives have uncovered on Wednesday is said not to contradict that statement, said political editor Nick Robinson.
News International has promised the "strongest possible action" if it is proved that Milly's phone was hacked.
Mr Coulson has not commented on the latest allegations, although it has been reported he has told friends he suspects he is being used to deflect attention from News International.
Other developments include:
MPs are to hold an urgent debate on Wednesday into whether there should be a public inquiry into phone hacking
Labour members on the Metropolitan Police Authority are calling for the commissioner Sir Paul Stephenson to refer the force voluntarily to the Independent Police Complaints Commission, so it can examine the police's conduct of the original 'hacking' investigation in 2006
Lloyds, Virgin Holidays and car maker Ford have announced a halt on advertising in the News of the World, pending the newspaper's investigation and response
The Guardian newspaper has alleged murdered Surrey schoolgirl Milly Dowler's phone was hacked by private investigator Glenn Mulcaire, who was working for the News of the World, when she was missing
Mulcaire has apologised "to anybody who was hurt or upset by what I have done"
The parents of murdered Soham girls Holly Wells and Jessica Chapman have been contacted by police investigating phone-hacking
The News of the World is considering putting a front page apology on Sunday's paper
'Illicit techniques'
Business editor Robert Peston said the e-mail disclosure was "a significant development".
"When you have payments of tens of thousands of pounds, it seems to me to be pretty inconceivable that the only people who know about this is the editor and the reporter."
He said it had an important political dimension, in that Mr Coulson went on to work for David Cameron as director of communications at 10 Downing Street.
Mr Coulson resigned from that post in January, saying the phone-hacking scandal has made it hard to focus on his government role.
Our correspondent said it also shows that the police investigation into alleged illicit techniques used by the News of the World to obtain stories goes much wider than an examination of the hacking of mobile phones.
The Metropolitan Police launched Operation Weeting in January this year after new phone-hacking claims emerged. The force has faced criticism for its initial inquiry in 2006 into phone-hacking at the paper.
That probe led to the convictions and imprisonment of Mulcaire and then News of the World royal editor Clive Goodman in 2007 for conspiracy to access phone messages left for members of the royal household.
A number of alleged phone-hacking victims have since reached out-of-court settlements with the newspaper.