Afghan death soldier identified by Ministry of Defence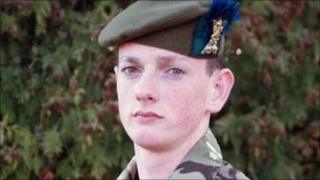 A British soldier found dead after going missing in southern Afghanistan has been named by the Ministry of Defence as Highlander Scott McLaren.
He was a member of 4th Battalion, The Royal Regiment of Scotland. His next of kin have been informed of his death.
The soldier, from the Sighthill area of Edinburgh, had left his post in Helmand province in southern Afghanistan alone in the early hours of Monday morning.
The 20-year-old was later found dead with bullet wounds.
He had disappeared from a Nato checkpoint in central Helmand province, sparking a massive 17-hour search. The circumstances surrounding his death are still unclear.
Highlander McLaren, described as an extremely accomplished runner who was known to his friends as F1, joined the Army in August 2009 but served less than two years before his death.
A statement on behalf of his family - parents James and Ann, sister Kirsty and brothers James and Ross - read: "We are deeply saddened by the news that our dear son Scott was killed in Afghanistan.
"We were extremely proud of Scott. He loved the Army and despite his short time in 4 Scots had made many friends.
"His family and friends... will miss him dreadfully. We will always be thinking of him.
"We would like to thank everybody for their support and kindness at this time."
The day before he went missing, Highlander McLaren and colleagues were deployed to a checkpoint where they were helping to hold and secure a bridge in the northern area of Nahr-e-Saraj.
Lieutenant Colonel Alastair Aitken MBE, commanding officer of Combined Force Lashkar Gah and The Highlanders, 4th Battalion The Royal Regiment of Scotland, paid tribute to the serviceman, describing him as a soldier of "true grit" who became the "most reliable and conscientious member of his platoon".
Major James Cross, Officer Commanding D Company, The Highlanders, 4th Battalion The Royal Regiment of Scotland, said: "Highlander McLaren's death has come as a huge blow to all of us who have had the privilege of serving alongside him."
'Deeply saddened'
Taskforce spokesman Lt Col Tim Purbrick said: "He had suffered gunshot wounds. His exact cause of death is still to be established and the circumstances surrounding his disappearance and death are currently under investigation.
"It would not be appropriate to comment further at this time. Our thoughts and prayers are with his family and friends."
Defence Secretary Liam Fox said he was "deeply saddened" by news of Highlander McLaren's death.
"He was a brave and well liked soldier, praised by his seniors and admired by his colleagues," he said.
"I understand from his commanders that he was the most conscientious member of the platoon, who could always be relied on and who will be greatly missed.
"My thoughts and prayers are with his family and friends at this difficult time."
The number of British military deaths in operations in Afghanistan since 2001 now stands at 375.