Horn of Africa drought: UK charities issue appeals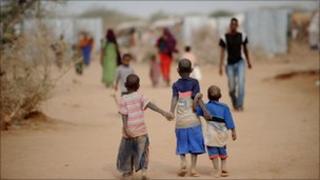 UK charities are urging the public to help millions of people facing starvation in the Horn of Africa.
Save the Children has launched an emergency appeal to raise £40m, while Oxfam and the Red Cross have made similar calls for urgent donations.
The UK has pledged £38m ($61m) in food aid to drought-hit Ethiopia - enough to feed 1.3m people for three months.
The UN has called for international aid across the Horn of Africa where 10 million people are affected.
Some areas have suffered the worst drought in 60 years and the UN now classifies large areas of Somalia, Ethiopia, Djibouti and Kenya as in a crisis or an emergency.
Ethiopia faces its worst drought for a decade with an estimated 3.2m people in need of emergency aid.
A spokeswoman for Save the Children said more than a quarter of children in the worst-hit parts of Kenya are now dangerously malnourished, and in Somalia malnutrition rates have reached 30% in some areas.
She said a combination of failed rains and soaring global food prices has left more than £9m people living in remote areas across the Horn of Africa - more than half of them children - without enough food and water and at risk of malnutrition.
The charity has already launched a major humanitarian response in Kenya, Somalia and Ethiopia to feed tens of thousands of underweight children, provide medical treatment and get clean water to remote communities.
With rain not due until September, it says it needs money to ramp up its response.
Matt Croucher, the charity's regional emergency manager for East Africa, said: "Parents no longer have any way to feed their children; they've lost their animals, their wells have dried up and food is too expensive to afford.
"We can stop this tragedy unfolding, but we only have half the money we need. We urgently need to raise the rest so we can save more children's lives."
The charity said five pounds pays for enough water purification tablets to provide clean, safe water to a family of six for a month, £15 pays for mosquito nets to keep 10 children safe from disease, and £80 will feed a family of six for a month.
On Sunday, as well as pledging £38m ($61m) in food aid to Ethiopia, International Development Secretary Andrew Mitchell said the World Food Programme cash would also treat 329,000 malnourished children and mothers.
He warned that other countries across the world must give money if a full-scale disaster was to be avoided.
UN humanitarian affairs chief, Baroness Amos also urged the world's nations to channel aid to the Horn of Africa.