Missing UK Afghanistan soldier is found dead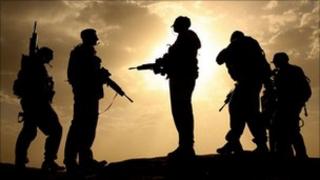 A British soldier who went missing in Afghanistan has been found dead with bullet wounds.
The soldier, from the Highlanders, 4th Battalion The Royal Regiment of Scotland, was found following an extensive search on Monday.
The soldier's next of kin have been informed of his death.
Prime Minister David Cameron, who is visiting Afghanistan, said it was a reminder of the high price the UK has paid for its work in the country.
The soldier had left his base in Helmand province in southern Afghanistan alone in the early hours of Monday morning.
Taskforce spokesman, Lt Col Tim Purbrick, said: "He had suffered gunshot wounds. His exact cause of death is still to be established and the circumstances surrounding his disappearance and death are currently under investigation.
"It would not be appropriate to comment further at this time. Our thoughts and prayers are with his family and friends."
The BBC's Quentin Sommerville, in Kabul, said a local Taliban fighter told the BBC that insurgents had captured a foreign soldier in the Babaji area and, after a firefight, the soldier was killed.
But our correspondent said the Taliban often made exaggerated claims for propaganda reasons.
The international mission in Afghanistan, Isaf, denied that any gun battle took place.
Mr Cameron said: "This was very sad news, and I want the thoughts and condolences of everyone on my team here to be with the family of that soldier."
His schedule had to be revised as the helicopters which were due to take him on a tour were being used to search for the soldier.
The number of British military deaths in operations in Afghanistan since 2001 now stands at 375.