Housing benefit cap won't make 20,000 homeless - Shapps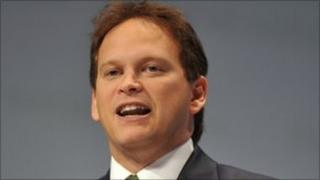 A planned cap on housing benefit will not lead to a rise in homelessness, Housing Minister Grant Shapps has said.
He hit back after a leaked document showed the communities department warned Number 10 in January that 20,000 more people could end up on the street.
Labour say that contradicts claims by ministers that the potential impact of the policy could not be quantified.
But Downing Street says it "completely disagrees" with any suggestion that ministers misled Parliament.
Plans for a maximum limit on the amount of benefits one family can claim a year from 2013 - of about £26,000 - were announced at the Conservative conference last October.
It is estimated the £500-a-week cap, which would apply to the combined income from benefits such as jobseekers allowance, housing benefit and council tax benefit, could result in about 50,000 families being about £93 a week worse off.
Affordable housing
The leaked document was written Communities Secretary Eric Pickles' then private secretary Nico Heslop and sent to Prime Minister David Cameron's private secretary Matthew Style.
It said Mr Pickles' department supported the principle of the cap, but feared it could cause some "very serious practical issues" because thousands of families would be unable to pay their rent.
It said 20,000 could be uprooted - in addition to another 20,000 forced to leave their homes by other benefit changes.
Asked whether that warning was accurate, Mr Shapps told the BBC: "I see no reason for this to lead to homelessness...
"This won't lead to more people on the streets."
Mr Shapps denied that the leak had caused tension between his department and Number 10.
He also said the document in question was six months old and a key concern it raised had now been addressed.
The letter warned that the cap might have a damaging effect on plans to create 150,000 new affordable homes, with the resulting shortfall then leading to more homelessness.
But Mr Shapps said the number of bids from the private sector to deliver those homes had "surpassed my wildest expectations" and meant that the government was "very likely" to meets its objective by 2015.
A Downing Street spokeswoman said the changes to housing benefits were about "fairness".
She declined to go into details about the correspondence between Mr Pickles' office and that of the prime minister, but she insisted it was completely untrue to suggest that ministers had misled Parliament over the issue.
A spokesman for Mr Pickles said he and his department were "fully supportive of all the government's policies on benefits".
'Real concern'
But Labour have accused ministers of failing to "disclose crucial material information" to MPs about the impact on homelessness when they were asked to debate the cap policy.
Shadow work and pensions secretary Liam Byrne raised a point of order in the House of Commons on Monday afternoon to ask "who knew what and when".
He said it was "inconceivable" ministers did not know about it much earlier given that a number of their advisers and other officials did.
Commons Speaker John Bercow said it was "an extremely important issue" and told the House he would look into the matter.
He also said ministers would have heard the point of order and would have to decide whether or not they needed to say something to the Commons, "sooner rather than later".
Earlier, Labour leader Ed Miliband said: "I think it's a matter of real concern that six months ago, the government was warned that its policy on housing benefit wouldn't save money and would lead to greater homelessness.
"That means it's an ineffective policy and and it's an unfair policy, and I think they have to be providing some answers about why they didn't act on these clear conclusions from the Department of Communities and Local Government."
Labour have said they would support the idea, in principle, of a cap on total benefit payouts while giving no details of what level it should be set at.
Housing benefit in its current form was introduced in the early 1980s, but it has been modified several times by subsequent governments. Over the years the cost has increased. The coalition says the housing benefit bill was £11.2bn in 1997/98 but will be £24.7bn by 2014/15 without reforms.
The government is making 10 changes to housing benefit, including local housing allowance (LHA), which is paid to those in privately-rented accommodation. Eight of the changes result in savings and two involve new costs. Overall, the measures will cut £2.4bn from the housing benefit bill.
This change will restrict housing benefit for working-age tenants who are occupying a larger social rented property than required, such as a couple in a three-bedroom house (size restrictions already apply to private sector tenants). The measure results in the biggest saving of all the changes. Introduced: April 2013
This change will mean that local housing allowance (LHA) rates will be calculated on the 30th percentile of local rents rather than the mid point. This means LHA tenants will have, in theory, access to the bottom 30% of the market instead of the bottom 50%. Introduced: April 2011
At present, if you are a local housing allowance (LHA) claimant in a property where the rent is cheaper than the average, you can keep the difference, up to £15 a week. The withdrawal of this payment was first announced by the Labour government in 2009. They deferred it until April 2011. Introduced: April 2011
LHA will be set in line with the Consumer Prices Index (CPI) instead of the Retail Prices Index (RPI). CPI and RPI are both measures of inflation, but while RPI includes housing costs and mortgage interest payments, CPI does not. A switch to CPI is expected to lead to lower benefits. Introduced: April 2013
Household welfare payments will be capped at £500 per week in 2013. The limit would not apply to people on disability living allowance, war widows' pensions and working tax credit. It will see those affected lose an average £93 a week - the biggest loss of any other change. Introduced: April 2013
Single people under the age of 25 receiving local housing allowance are restricted to the rate for a single room in a shared house, rather than for a one-bedroom property. The restriction to this lower rate will be extended to those up to the age of 35. Introduced: Jan 2012
Deductions can be made from the benefit claimants receive if they share their home with adults not dependent on them, such as adult children. The deductions - from £7.40 to £47 a week - are made as it is assumed the individuals pay towards the rent. These deductions will be increased. Introduced: April 2011
The government plans to remove the five-bedroom local housing allowance (LHA) rate so the maximum will be for a four-bedroom property. It will also introduce caps on LHA weekly rates. The Chartered Institute of Housing predicts within 30 years, all areas of Britain will be affected. Introduced: April 2011
More money is already being made available to offset the impact of the cuts to housing benefit. However, the Chartered Institute of Housing says this equates to less than 2.5% of the total package of housing benefit cuts, or about £8.30 per year per case. Introduced: Oct 2010
The government says, in recognition of the important work done by carers, it will provide extra money to help fund an additional room for them. The National Housing Federation welcomes the move but adds that wider benefit reforms will have a negative impact on disabled people's income. Introduced: April 2011
BACK
{current} of {total}
NEXT