Thameslink rail contract: Labour urges review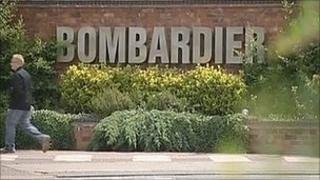 The decision to award a £1.5bn rail contract to a German rather than a UK manufacturer had dealt a "body blow" to the sector, Labour has warned.
Shadow business secretary John Denham and shadow transport secretary Maria Eagle have written to PM David Cameron urging him to review the decision.
They said it threatened thousands of jobs at Derby-based Bombardier.
The Department for Transport awarded the contract for 1,200 new carriages for the Thameslink line to Siemens.
The German company is due to construct the trains for the line between Brighton, London and Bedford at Krefeld, in the industrial Rhineland region.
Bombardier's Litchurch Lane plant in Derby - where about 3,000 people are employed - is the last rolling stock manufacturer in the UK with a 150-year history.
Mr Denham and Ms Eagle wrote: "It is our belief that the loss of the contract could critically damage Britain's last train manufacturing company.
"It could affect the inward investment that Bombardier makes in its own operations across the UK, and to the many suppliers which rely on it.
"And it raises serious questions about Britain's ability to be a world-leading base for manufacturing."
They added: "It is essential that we do all that we can to support our manufacturing businesses. If we do not, British companies will continue to lose out to our global competitors."
They said a "full independent review" must take place to take into account the effect on the UK economy that the loss of this contract would create.