France E. coli outbreak: Elderly woman dies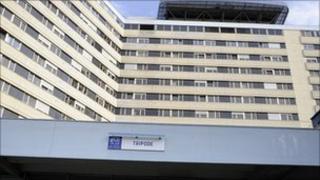 An elderly woman in France has died of kidney disease caused by E. coli, according to health officials.
The 78-year-old was in intensive care in the south-western city of Bordeaux.
Several other patients remain at the hospital, after being infected with E. coli in salad at a leisure centre in a nearby town.
The strain of bug in this outbreak is different from the one, sourced to Germany, that killed around 50 people recently across Europe.
The French sufferers are thought to have been infected by vegetable sprouts at the same location - a leisure centre at Begles near Bordeaux.
'Seed from Egypt'
Officials have been investigating a possible link with seeds sold by a British firm, Thompson and Morgan, based in Ipswich.
They question whether rocket and mustard vegetable sprouts, eaten by the victims, were germinated from infected seed.
Thompson and Morgan denies its seeds were responsible, and says the E.coli is more likely to have originated in France.
The latest theory comes from the European Centre for Disease Prevention and Control, which published a report last week pointing to a possible link in both the French and German outbreaks with contaminated seed imported from Egypt.
Ten people were originally affected in the French outbreak last month.
The Food Standards Agency (FSA) has not reported any E. coli cases in Britain.
However, it did revise its guidance on 25 June, advising people not to eat raw sprouted seeds, including alfalfa, mung beans (or beansprouts) and fenugreek.
The agency said these should only be eaten if cooked until steaming hot throughout.