Royal Canada tour: what the commentators say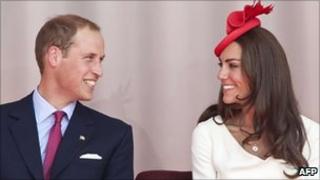 It's day three of Prince William and the Duchess of Cambridge's tour to Canada. What are commentators making of it so far?
Canadian blogger Lainey Gossip gets swept away and describes the young couple as "rock stars", commenting on how Prince William was guiding Kate through public appearances.
Andrew Cohen, of the Ottawa Citizen, agrees the duke and duchess are "sensational" and "seem without ego or airs".
But he argues their popularity should not confuse the republican debate.
"Let's understand something; an adult discussion about the future of the monarchy in Canada isn't about William and Kate... In Canada, it isn't the monarchy that matters," he said.
"It's celebrity. And William and Kate are celebrities, pure and simple."
However, Toronto's Globe and Mail says the visit is "no mere celebrity" event. It says their itinerary and engagements illustrate that.
"Ordinary celebrities such as Brad Pitt and Angelina Jolie would not present themselves to the public for days on end.... not even the Kardashian sisters would be so generous with their time; this is much more than a reality TV show.
"William and Catherine are here for us as citizens; they are part of Canada's Royal Family, part of Canada's history, part of Canada's present, and also its future."
As the couple head to French-speaking Quebec, CBC News's Roland Lindala-Haumont says the province's relationship with the monarchy "has often been strained".
He quotes Montreal Gazette's Bill Brownstein as saying: "The likelihood that William and Kate's visit will reverse Quebecers' ennui with the monarchy is slim."
Comment pages on news sites are alive with the debate.
On the CTV website, a user called Trudy said: "This is part of Canada's history, something we don't get to see very often. Yes it is costing money, but every so often I do believe that it is ok, to spend extra money to display the proud history of this country."
While Yan wrote: "This idea of class society we inherit from the British should be abolished long time ago. However, Canadians not only keep it, but also adore it. We like Kate and William whom we never met not because they are nice, but because they are rich.
"Canadians know more about Kate's dress than the human being Kate."
Royal style
And, inevitably, a lot is being made of Catherine's style.
Milliner Mary Jane Baxter tweeted: "Am loving Kate's red percher hat with a sassy maple leaf design. Perfect 4 her Canada trip".
The Montreal Gazette was thrilled she wore Canadian designers, including a lace overlay dress by Montreal-born Erdem.
The designer himself told the Gazette: "We're so excited!" and confirmed that it was the first time she has worn one of his designs.
Fashion Canada Magazine tweeted: "We'll never gloat again, but can we just get props for predicting that Kate would arrive wearing Erdem?"
The Toronto Star says Kate is a "royal recycler" as the "ever practical" duchess wore the creamy white Reiss dress she originally wore for her engagement photos.
Fashion reporter Derick Chetty noted the style cue taken from the Queen, as the then Princess Elizabeth also wore the same Maple Leaf brooch the first time she visited Canada in 1951.
The "patriotic spin" of the red and white outfit made her a "great ambassadress for international relations", he added.
Diana comparisons
Across the border, the New York Times draws comparisons to Princess Diana's inaugural visit in 1983 to Canada.
It says although the thousands in the crowd could not match the crushing scale of 28 years ago, they were loud and enthusiastic, repeatedly chanting the duchess's name.
And American comedian Joan Rivers can't help join in, tweeting: "Will and Kate are in Canada. Kate used to have a summer home, now she has a summer country."