Canada royal tour: Duke and duchess move on to Quebec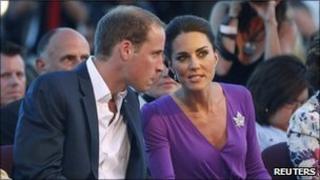 The Duke and Duchess of Cambridge will continue their official tour of Canada with a visit to the province of Quebec.
There the royal couple are expected to face protests from a small group of separatists.
They will first go to Montreal and visit both a world-renowned children's hospital and a cookery school.
On Friday, the duke and duchess were guests of honour as they celebrated Canada Day with about 100,000 people in the capital Ottawa.
Events in Ottawa climaxed with a lavish fireworks display.
The duke and duchess were at the heart of this year's celebrations marking the birth of Canada.
The duchess will later experience yet another aspect of her new life when she helps her husband plant a tree in the grounds of Government House in Ottawa.
The couple will then fly to the French-speaking province of Quebec where a small, radical separatist group has vowed to make their brief stay as disagreeable as possible.
With the cookery students the future king and queen will, in the words of one of their officials, put on aprons and roll their sleeves up.
On Friday, the duke and duchess attended events marking Canada Day on their second day in the country.
At a citizenship ceremony near Ottawa the royal couple presented national flags to 25 new Canadians who had come from 12 different countries.
The duchess wore a white dress and red hat - the colours of Canada's flag - and the Queen's maple leaf brooch.
Friday was a national holiday in Canada and marked the country's 144th birthday.
In what is their first official overseas tour, the couple are visiting seven Canadian cities in nine days.
The cost of the visit to the Canadian government, not including security, is estimated to be 1.4 million Canadian dollars (£958,580).
The duke and duchess will travel to the US state of California for two days from 8 July, attending a black-tie Bafta reception and dinner in Los Angeles on 9 July. Prince William is Bafta's president.