Church to review same-sex relationships policy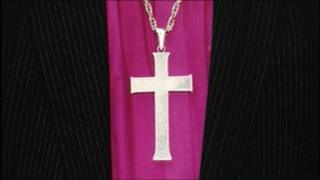 The Church of England is to review its policy towards same-sex relationships and consider allowing gay clergy to be ordained as bishops.
It comes after a rise in the number of clergy entering civil partnerships.
There is also pressure on the Church to conform to laws guaranteeing equal treatment to gay people.
Lawyers have said the Church could not reject clergy as potential bishops on the basis of their homosexual orientation alone.
The Church of England told clergy in 2005 they could enter civil partnerships if they remained celibate, but uncertainty has arisen about whether such clergy could be nominated as bishops.
Greater acceptance
The review appears to stem partly from evidence that the gay cleric Jeffrey John, who is celibate, was recently rejected as a candidate for appointment as Bishop of Southwark because of his sexual orientation.
Church lawyers subsequently warned that new legislation prevented the Church from discriminating against celibate gay clergy when making appointments.
A statement from the House of Bishops of the Church of England said: "It is now nearly six years since the house issued its pastoral statement prior to the introduction of civil partnerships in December 2005.
"The preparation of that document was the last occasion when the house devoted substantial time to the issue of same-sex relationships.
"We undertook to keep that pastoral statement under review. We have decided that the time has come for a review to take place."
BBC religious affairs correspondent Robert Pigott says the Church's decision to extend the review to its approach to sexuality in general suggests that it could be on course towards a greater acceptance of active homosexuality.
That would be a move fiercely resisted by traditionalists, he adds.