Iraq compensation bid is blocked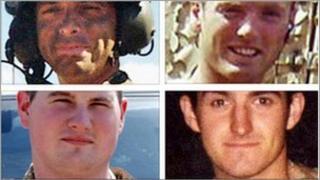 Families of three UK soldiers killed in Iraq have failed in a High Court bid to seek compensation from the government.
They had argued the Ministry of Defence should pay as it failed to provide armoured vehicles or equipment which could have saved lives.
Mr Justice Owen ruled their case, under the Human Rights Act, was not valid as Iraq was not in its jurisdiction.
But he allowed claims for negligence brought on behalf of four soldiers' families to go ahead.
Lawyers representing the families said they aimed to appeal against the judgment on human-rights grounds.
The failed compensation claims related to incidents in which soldiers died after their Snatch Land Rovers hit improvised bombs.
'Long-standing failure'
Pte Phillip Hewett, 21, of Tamworth, Staffordshire, died in July 2005, Pte Lee Ellis, 23, of Wythenshawe, Greater Manchester, died in February 2006 and Lance Cpl Kirk Redpath, 22, of Romford, Essex, died in August 2007.
Pte Hewett's mother, Susan Smith, L/Cpl Redpath's father, Colin, and Pte Ellis's sister, Karla, brought their claims under the Human Rights Act.
The judge struck out the claims because the three men died in Iraq and not on a British army base or in the UK, meaning the act did not apply.
A negligence claim for damages under common law brought by Pte Ellis's daughter Courtney, 10, was upheld by the judge, because she could claim she has lost the person who provided for her financially.
Colin Redpath said outside court that he would be appealing and added: "It is not the end yet. It has been a long process. There is another cog to turn.
"All we wanted was for the government to admit Snatch Land Rovers were not fit for purpose. Generals and MPs have already said this.
"We just wanted it to be recognised. People are still dying in Snatch Land Rovers in Afghanistan when armoured vehicles should be used against improvised explosive devices."
'Fair is fair'
Ms Smith said it was not right that British soldiers were considered to be outside the jurisdiction when they were sent to fight for their country.
"Phillip was at all times a British citizen and subject to the orders of his superiors, which is why he was in a Snatch Land Rover in the first place," she said.
"If Phillip had known the MoD was going to wash its hands of responsibility for his safety the moment he was sent to war, I don't think he would have gone. Fair is fair."
Meanwhile, the judge said three cases relating to an incident in which a British Challenger tank opened fire on another British Challenger tank after an officer became "disorientated," also under negligence law, were allowed to proceed to trial.
Cpl Stephen Allbutt, 35, of Sneyd Green, Stoke-on-Trent, Staffordshire was killed by "friendly fire" in March 2003 after his Challenger 2 tank was hit by another Challenger 2 tank.
Cpl Daniel Twiddy, of Stamford, Lincolnshire, and Trooper Andy Julien, of Bolton, Greater Manchester, were injured.
Their lawyer, Shubhaa Srinivasan, said: "The judgment sends a clear message that the MoD cannot renege from the military covenant by saying it does not owe a duty of care to properly equip our soldiers when they are asked to make the ultimate sacrifice during military operations - risk their lives for their country."
An MoD spokesman said: "The courts have upheld our arguments on Article 2 of the ECHR. We will be seeking leave to appeal [against] the decision about liability claims for equipment provision."