Pippa Middleton receives papers' apology over photos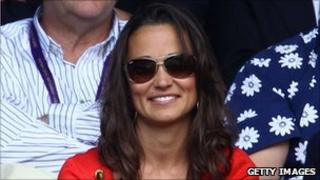 Two national newspapers have apologised to Pippa Middleton for publishing photographs of her which had been taken in "harassing circumstances".
The Duchess of Cambridge's sister complained to the Press Complaints Commission about the photographs.
After denying the claims, The Sun and The Daily Telegraph have settled the dispute after negotiations.
The Daily Telegraph will not reuse the image while the Sun has removed it from its website and archive.
The pictures were taken by photographers who work for a freelance agency. They show Ms Middleton walking through the capital city.
The Sun apologised to her "for any unintentional distress caused" while The Daily Telegraph apologised "if she had felt harassed in the taking of the photograph".
Both newspapers gave an assurance in regard to future photographs of Ms Middleton.
Privacy invasion
Since her sister Kate's marriage to Prince William, photographs of Pippa Middleton have been in high demand.
The Middletons have also complained to the PCC about five-year-old snaps of the sisters with their mother, Carole, which showed them swimming, diving and relaxing on and around a yacht off Ibiza and which were published by several newspapers in May.
The complaint is said to have focused on whether their privacy had been invaded.
The Editors' Code of Practice, ratified by the PCC, states: "It is unacceptable to photograph individuals in private places without their consent."
It defines private places as "public or private property where there is a reasonable expectation of privacy".