Crane driver dies at Olympic Village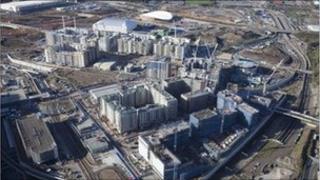 A crane driver has died at the Olympic Village site in east London.
The man, believed to have been in his 60s, was found slumped in the exit stairwell from his crane and pronounced dead at the scene, police said.
Emergency services were called to the site in Stratford just after 1430 BST on Tuesday.
An Olympic Delivery Authority (ODA) spokeswoman said it was unclear whether the death was due to a medical condition or related to an accident.
She said: "The sympathies of everyone at the ODA and its contractors are with this individual's family and friends at this very difficult time."
The Health and Safety Executive is due to send inspectors to the site - part of the development for the London 2012 Olympics - to assist police in their investigation into the death.