Nimrod R1 aircraft in final flight for RAF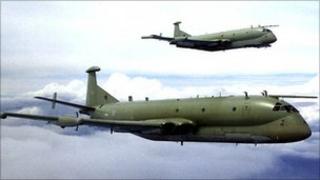 The Nimrod aircraft has made its final flight for the RAF during a ceremony at a Lincolnshire air base.
The R1 model, used for reconnaissance and gathering electronic intelligence, made a flypast at RAF Waddington.
Chief of the Air Staff Sir Stephen Dalton attended the retirement ceremony and there was also a parade.
Three new Rivet-Joint aircraft will replace the R1 in 2014. Until then, the RAF is sharing - or "co-manning" - planes owned by the US Air Force.
51 Squadron operated the RAF's two Nimrod R1s, with the aircraft using a team of 24 reconnaissance equipment operators, four flight crew and a mission supervisor.
It was typically used to try to intercept communications, such as mobile phone conversations, while flying over enemy territory.
'Lifesaver'
The R1 operated for 37 years and served throughout the Cold War, as well as in the Balkans, Afghanistan and in the current conflict in Libya.
Speaking at the event, Air Chief Marshal Dalton said that it was a "day of celebration" for all that the Nimrod had achieved.
"There is no question this aircraft has given us the ability to do things that would be very much more difficult - and could have cost us more lives if we hadn't had it," he said.
The RAF's top officer also alluded to concerns about relying, temporarily, on the use of American planes for UK airborne intelligence.
He admitted it was a blow, but said the air force could still manage: "It doesn't leave a hole - it dents the depth of our capabilities.
"We can still do the missions we need to do, but this was a more efficient way of doing things. We'll have to use other methods now."
Flight Lieutenant Dave McRitchie, an R1 mission commander, also paid tribute to the aircraft's vital role during its years of service.
"It's something that's played a major part in every operation that UK armed forces have been involved in - now it won't be there."
The MR2 version of the Nimrod finished service in 2010, while its replacement the MRA4 was scrapped in the defence review.
It was decided that £2bn could be saved over 10 years by not operating the nine MRA4 planes, despite the programme already costing taxpayers £4bn.