Flash flood warnings for parts of England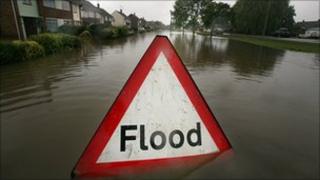 Flash floods may hit parts of England as heavy showers follow the hottest day of the year so far, according to the Environment Agency and Met Office.
Parts of southern, central and eastern England are said to be at risk of flash flooding on Monday and Tuesday.
The agencies said heavy showers were expected to develop on Monday evening and could result in localised flooding.
It comes after the hottest day of the year saw temperatures rise to 32.8C in Gravesend, Kent.
The agencies said surface water flooding could occur as between 25mm and 50mm (1-2in) of rain may fall in some places, although the risk of flooding from rivers remains low.
The Environment Agency said its staff were on 24-hour alert, and teams are monitoring river levels as the band of rain moves across the country.
"The public are encouraged to tune in to local media for weather forecasts for their area and to keep an eye out for signs of surface water flooding," it said.
And a Met Office spokesman said the "sheer volume of rainfall falling in such a short space of time" in some areas could lead to surface water flooding in some places.
However, the dry spring, which left some parts of east and central England in a state of drought, means that many rivers are at low levels and are unlikely to flood.
Temperatures in London and south east England are forecast to fall to 20C later in the week and to 19C in other parts of the UK.